COLLABORATIVE ROBOTICS WILL DRIVE THE AUSTRALIAN ECONOMY
28-11-2016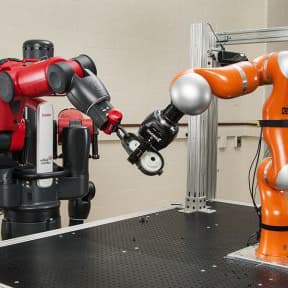 Within the next three years, humans and robots will be able to work side-by side in the workplace without fences or other safety obstacles.
Automation and collaborative robotics will lead to efficiency increases in some of Australia's largest manufacturing industries, without sacrificing any of the quality production characteristics that make on-shore manufacturing viable compared to lower-cost countries.
That is, according to the 2016 World Robotics Report recently released by the International Federation of Robotics (IFR), which surveys the current state of robotics in Australia, and makes predictions on the future of the market.
According to the IFR, compact and user-friendly collaborative robots (cobots) are set to become a key driver in the automation market, and thus the Australian market as a whole. Their report predicts global sales of industrial robots to increase by 13% per year for the next three years, with increasing rates of adoption in the automotive, plastics, electronics assembly and machine tool industries.
Universal Robotics, a leading force in the collaborative robotics movement, is pleased by the news of industrial robotics expansion.
"As the market leader of the cobot industry, Universal Robots welcomes the report which confirms the validity of our mission: lowering barriers and enabling automation in areas previously considered too complex or costly," said Chief Commercial Officer of Universal Robots, Daniel Friis.
Companies that have adopted industrial robots have seen significant gains in productivity and safety, even more so for those who have embraced collaborative robots.
 
"Our installed base of more than 10,000 cobots worldwide illustrates the dramatic growth potential of this game-changing automation technology. We enable small and medium-sized enterprises to optimise their competitiveness on the global stage with an industry leading payback period," said Friis.
 
The need for robotics is pronounced, and goes beyond replacing human labour. The correct application of an automated robot in the workplace can eliminate tasks that workers simply don't want to do; either because they are strenuous and unsafe, or because these tasks are trivial and time-consuming, but absolutely necessary.
"UR robots are now increasingly deployed on the auto assembly line, working hand-in-hand with employees, by relieving them of ergonomically unfavourable tasks. We have recent case studies documenting how cobots quadrupled injection moulding production, and how our new UR3 table-top robot is now a sought-after automation tool for light assembly, such as circuit board handling," said Friis.
 
In Australia and the Asia region in particular, strong, continued robot growth is forecasted by IFR, with the recent report suggesting a rise of 18 percent in robot supplies this year, while installations are expected to rise by 15 percent. Previous reports have found that almost 60% of Australian companies are planning to invest in automation.
 
 Find The World Robotics Report 2016 on www.ifr.org