COLD SPRAY EXPANDS LIMITS OF ADDITIVE MANUFACTURING
19-09-2017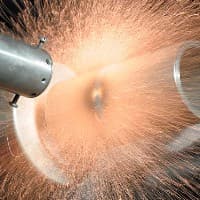 CSIRO has undertaken research to produce a new additive manufacturing technique based upon cold-spray metal coating technology.
Cold spray is a technique that is commonly used for metal coatings or repairs, where metal powder is fed at high pressure through a nozzle and into a heated nitrogen or helium gas stream, where it's fired at the surface of the part to be coated or repaired. 
Compared to other additive metal manufacturing techniques, which involve high heat and pressure, this new technique has the potential to undo the current limits on additive manufacturing tech, 
CSIRO, which worked with Force Industries to develop the technique, has partnered with Titomic to commercialise the final process. They are preparing to enter the Australian Stock Exchange later this month. Called Titomic Kinetic Fusion, the technology uses a process similar to cold spray to build up titanium parts layer by layer, rather than simply coating a surface. It has "no limits" in terms of shape and size.
"Not all 3D printing is the same. When people think about 3D printing they think about small, precise parts, but our focus is industrial scale and size is no limitation for us," said Jeffrey Lang, Titomic CEO and CTO.
"The facility we are building at the moment will have a metal 3D printer that's 9m by 3m by 1.5m…so we are talking about additive manufacturing in a scale that no one can comprehend at this stage. We build things at a lot quicker volume. We can currently ­deposit 45kg of material per hour. The average 3D printer does about 1kg in 24 hours." 
The advantages of Titomic Kinetic Fusion over traditional manufacturing are the same as most other additive manufacturing processes: it's faster, production costs are lower, and strong, complex parts can be created in one piece without additional tooling, welding or other processing. Better materials can be used, as well, because powders can be created with blended metals and alloys.
But in terms of speed and scale, it outshines other forms of 3D printing, says Titomic. There's also no risk of warping as the powder instantaneously bonds to the surface it lands upon. It can be used with a wide range of metals, as well as ceramic, glass, stone and plastic.
Titomic's facility is scheduled to be operational in December of this year, and trials will begin in the first quarter of 2018. The company plans to begin putting the technology to the test by 3D printing seamless bicycle frames in one piece – one every 25 minutes. 
"This whole process started with a focus on Australia's sovereign capabilities,"Lang said. "We have lots of mineral sands that hold titanium but the ­titanium industry is controlled by the Russians. By using Australian resources, we become more cost competitive and we can become a global hub of additive technology."