COLBY RACKING PROTECTION DELIVERS ENHANCED WAREHOUSE SAFETY
30-01-2015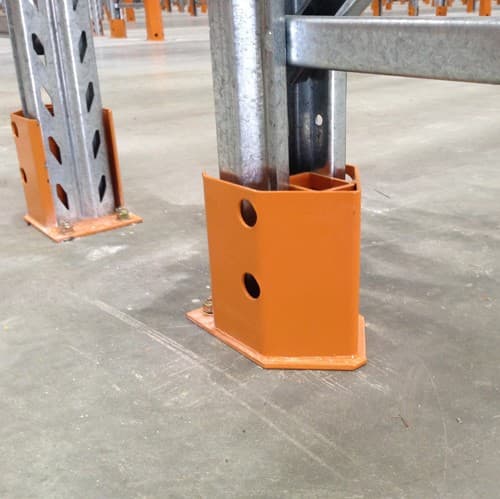 Dematic has launched a new Colby Rear Upright Protect-a-Rack designed to further enhance safety levels in Australian and New Zealand warehouses and distribution centres.
The rear upright protector builds on Colby's existing Protect-a-Rack, which protects the front side of storage racking uprights by eliminating any catch points as pallets are being placed into or retrieved from the storage system, and deflecting any forklift impact forces.
The new Colby Rear Upright Protect-a-Rack offers warehouses and distribution centres a system capable of fully protecting their racking from front to back.
The rear upright protection was added following reports from customers that although their front uprights bear the brunt of most damage, they were still experiencing damage to rear uprights. This damage was most commonly due to forklift drivers pushing a pallet too far into the ground level storage bay, causing it to strike the rear upright.
The new Colby Rack end-to-end system delivers extra rack protection, which prevents damage that would otherwise prove dangerous, costly, inconvenient to repair, and crucially, difficult to detect. In the case of the front uprights the damage is usually clearly visible, but damage to the rear uprights can sometimes be difficult to pick up when the location has a full pallet of stock in it.
"With racking having an expected lifespan of around ten years, the last thing businesses want is a system that is not able to cope with normal warehouse use and is easily damaged, as this puts workers at risk and causes costly disruptions having to inspect, record, move stock and repair damaged racks," said Tony Woodlock, Colby Storage Solutions' General Manager.
"Preventing storage systems from being damaged not only provides a safer workplace, but also offers the benefit of reduced operating costs, meaning the rack protection will quickly pay for itself.
"Additionally, many warehouse operators are unaware that the onus for their storage system's safe operation is on them, not the supplier. Therefore the legal repercussions of an accident caused by sub-standard or damaged equipment could be severe," added Mr Woodlock.
Since its introduction more than 10 years ago, Dematic's Colby Protect-a-Rack system has transformed warehouse safety by virtually eliminating accidental damage to racking uprights, and reducing operating and maintenance costs in hundreds of warehouses in Australia and New Zealand.
Dematic Pty Ltd
Ph: 02 9486 5555