Published 24-09-2020
| Article appears in October 2020 Issue
Cobots,Redarc and bringing manufacturing home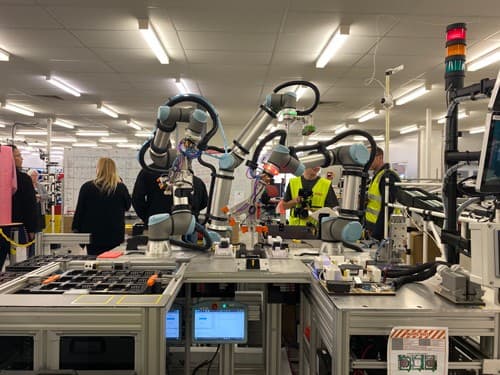 One of Australia's largest employers in the manufacturing sector, REDARC has taken robotics to new heights with its partnership with Universal Robots.
 In a local success story, Universal Robots has deployed its cobots to automate key manual and repetitive tasks so that employees are redeployed to focus on value added tasks.
 Meanwhile with REDARC's $22million invested into a facility expansion project in 2018 and ongoing investment in R&D, the 200 staff are freed up to upskill their skills and knowledge.
 REDARC is confident in this venture with its 40-year rich history in research, design, development and manufacture of a range of electronic voltage converters and associated products.
 The products include inverters, power supplies, battery chargers, brake controllers and braking products.
 This notable investment ensures a high volume of Australian made, quality products and positions REDARC for future growth prospects.
 From Manual to Automated
REDARC looked to expand its footprint and increase its competitiveness in the export market. 
Manufacturing Engineering Team Leader Mitchell Adams for REDARC says central to this approach was the need to automate manual processes.
"To compete on an international level, we needed to increase the speed, quality and outputs on our assembly line – namely the assembly of PCB boards".
"Moving from manual to automated processes would increase our productivity and allow us to better compete in an aggressive market".
Answering this automation need was a natural fit for Universal Robots. Mitchell says:
"I first was introduced to Universal Robots at a previous employer and was impressed by their service levels. They demonstrated a cobot on-site which helped us to estimate the cycle time and rate of return prior to purchase".
Two UR5's and one UR10 collaborative robots (cobots) were selected based on REDARC's requirements.
Cobots are well placed on the factory floor because they are fit for function and can work safely alongside humans, which make them an excellent entry to automation in an otherwise manual process.
Darrell Adams, Head of Southeast Asia Oceania for Universal Robots says the cobots are used in the assembly, labeling and transport of PCB boards.
REDARC's Mitchell says that the cobot's core tasks include the location of part and placement of a part in a jig feature, picking, assembly of the unit.
Also presenting the unit to the labeling system where the movement of the cobot is used to apply a static label, loading and unloading of products for testing and picking up the product from the tester – here good and bad products are identified and sorted.
"As these goods are destined for export, it's critical that only the best quality parts are sent. Here, cobots ensure quality, precision, and peace-of-mind for REDARC," adds Mitchell.
One of the UR5's is fitted with Cognex 2D camera for PCB recognition and location, whilst the UR10 is fitted with a 3D Pickit Camera, which allows for picking of the plastic components for assembly.
Mitchell notes that while operators were naturally hesitant when the cobots were first introduced, they were pleased to know that a thorough risk assessment and various safety tests had been completed prior to implementation. 
"This included using force control through the joints to demonstrate a staged safety test".
"Force mode is an exciting collaborative automation element to highlight which Mitchell says allows the cobot to seek an object in a variable position.
"Due to variation in height when picking PCBs from a stack of Vacuum Form Trays they are not always at the same level, so it was impossible to program a cobot to stop at the same point on every cycle".
"Force mode allows the cobot to move down slowly towards a product until an opposing force is detected, compensating for this difference in height".
Success
The robotic cell has increased productivity by 52%, and in addition the overall efficiency, quality and safety of the assembly on the line has also improved.
"Workers can now focus on value-added tasks and REDARC can rest assured that every PCB board is good to go," says Mitchell.
Mitchell concludes saying that this installation forms part of REDARC's journey to become a Smart Factory by 2025.
REDARC adds cobots will definitely make bringing manufacturing home easier.
 "We are always one step ahead and pride ourselves in 'futureproofing' our business. This robotic automation cell is a first for REDARC but is set to become the standard for further implementation as the company expands."
Universal Robots will be hosting the WeAreCOBOTS APAC Virtual Expo, the Region's Largest Virtual Collaborative Robot Expo, from 6-8 October 2020.
REDARC -  www.redarc.com.au
Universal Robots - www.universalrobots.com