COBOTS TO ASSIST WITH AGRICULTURAL REVIVAL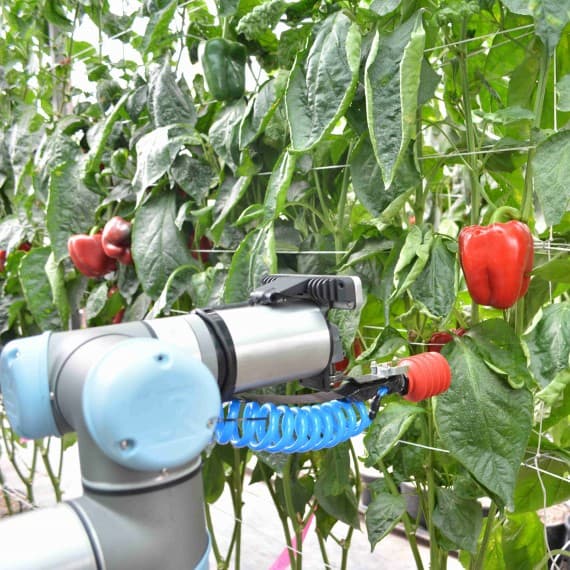 With an estimated 5 million hectares of land and 2500 homes and business destroyed in the recent runaway fires that ravaged the landscape since September 2019, Australia is now faced with the enormous task of rebuilding.
While this might seem like a major task, it also offers new opportunities to the industries involved in helping rebuild the homes, buildings and farmland that were lost in the fire, giving an opportunity to jumpstart the economy. This is particularly true in the agriculture industry, which comprised 14% of the total land that was burned by the Australian bushfires.
By mid-January, an estimated 820,000ha of agricultural land had been destroyed across NSW, Victoria and South Australia.
Universal Robots believes that companies may be able to speed up the process of rebuilding by implementing technological advancements across the spectrum.
"A big benefit UR cobots hold in this rebuilding process is that they provide manufacturers and industry with the ability to act fast, increase productivity, profits and offer higher quality products," says Darrell Adams, Head of SEAO at Universal Robots.
Cobots can be programmed, operated and maintained by existing employees, regardless of the team's previous robotics or automation experience. In fact, it typically takes less than an hour for an untrained operator to unpack a UR robot, mount it, and program the first simple task according to Adams.
According to a recent report, the market for agricultural robots is expected to reach $35 billion within the next five years. And UR believes that cobots can offer an effective solution for farmers in Australia.
"Cobots can prove their agricultural worth by assisting producers in getting their businesses back up and running faster and more efficiently," says Adams.
UR cobots can be applied to a number of roles within the agriculture and food processing sector. Robots are successfully used in planting, seeding, fertilising, irrigation, weeding, thinning, pruning, harvesting and milking applications, among others.
Cobots are particularly good at handling delicate agricultural processes and products. For example, in the dairy industry a UR robot arm mounted on a small pallet jack is used to disinfect and milk cows, cutting labour costs and time taken to complete the job. The robot takes up no more space than a human milker and doesn't require any safety caging.
Another application where cobots can be implemented is in the packaging of goods that are sent to market. Adams notes one case study of a UR10 robot, installed at a food manufacturer. The robot worked independently to pack vanilla cream bags into cartons, but also formed part of a network that includes a carton erector, a carton sealer, and a filling machine.
"This is one of the real benefits of cobots – it can work alongside workers and form part of your factory process," he says.
Collaborative robots are also ideal for hygienic food processing environments, where they can operate around the clock during seasonal periods of high production and can be easily redeployed to new applications as needed, helping local farmers reach their production goals faster.
One local success story comes in the form of Harvey, a robotic harvester developed by the Queensland University of Technology. Harvey combines state-of-the-art robotic vision and manipulation techniques to identify and harvest capsicums.
In recent trails, Harvey (pictured above) recorded a fruit harvesting success rate of 76.5%, with an average pick time of 20 seconds.
Universal Robots
+65 6635 7270
www.universal-robots.com