COATING FOR STEEL KEEPS MOULD, ALGAE AND BACTERIA AT BAY
26-06-2017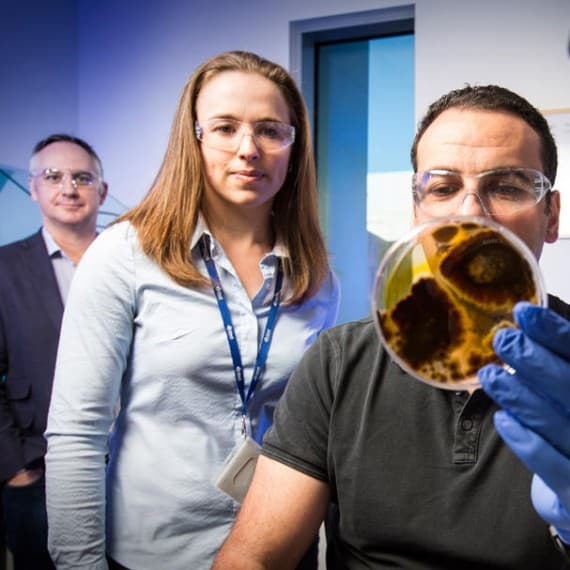 Researchers at the University of Wollongong led ARC Research Hub for Australian Steel Manufacturing have come up with a novel coating that prevents the build-up of mould, algae and bacteria.
Organisms such as mould, algae and bacteria can cause severe damage over time on steel products, leading to the necessity for regular and costly cleaning and maintenance. For example, algal growth on ship hulls can compromise both speed and manoeuvrability as well as increasing fuel consumption. And
bacterial contamination in hospitals leads to the spread of potentially deadly hospital-acquired infections.
To date, the coatings used to solve these problems have been based on biocides that release antimicrobial agents to kill the target organisms. These are of limited effect, and also involve toxic chemicals that themselves form a health hazard.
The researchers at the Intelligent Polymer Research Institute (IPRI), in collaboration with Steel Hub partner BlueScope, are looking for a solution that is both environmentally friendly and more effective by developing a coating that would prevent the organisms attaching themselves in the first place.
The "non-stick" coating combines silica nanoparticles with chemical compounds called zwitterions that naturally bond to water. The zwitterions are able to bond to the nanoparticles, which in turn, are more readily attached to a surface to form a water layer or coating that prevents the organisms from contacting the steel.
Laboratory tests show that the initial coating reduces the adhesion of microbial spores by 87% and e-coli bacteria by 96%. This indicates the potential for the silica nanoparticles to be further developed as versatile fouling-resistant coatings for widespread coating applications.
Research supervisor, Dr Paul Molino says: "We are looking at optimising this fouling resistant coating system by investigating the influence of varying the size of the modified silica nanoparticles on the adhesion of different microbial organisms, as well as investigating the modification of the silica nanoparticles with some new chemistries, with preliminary results identifying some exciting results."