COATING CONVEYOR PULLEYS FOR PROTECTION AND LONGEVITY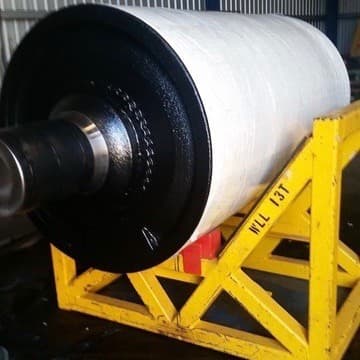 Industrial conveyors and their supporting infrastructure represent millions of dollars of investment by companies over many years, so they need to be protected as much as possible. Massive stresses and strains are placed on the equipment when moving thousands of tonnes of material every hour along a conveyor belt system.
At a mine, bulk handling facility or shipping terminal, the rollers that move, guide and support a conveyor can weigh up to 14 tonnes. The harsh operating environments play havoc with the rollers, which often need to be replaced every couple of years, and sometimes as often as every eight months. Dust and small particles adhere to the ends of the rollers and coat the bolts attaching the roller to an axle or drive shaft. The bolts can rapidly develop surface cracking, especially if exposed to moisture.
One conveyor that exhibited this bolt corrosion problem was situated at a large salt production facility in Western Australia. The highly alkaline environment rapidly corroded the bolts attaching rollers to a drive shaft. Applying Rhino Tuff Stuff, a premium Australian-made spray-applied polyurethane, to the pulley ends largely eliminated bolt failure and greatly increased pulley life expectancy.
Denis Baker, Special Projects Engineer and International Sales at Rhino Linings Australia, says that this trial site also demonstrated how rapidly Rhino can respond to customer requirements. Within four days of receiving the request, Baker had travelled to Western Australia, met with the local applicator from Broome at the site, established a remote workshop and coated the securing bolts and complete pulley ends. The customer opted to get the coating done in-situ.
"The solution implemented at the salt works yielded enormous life performance improvements with the pulleys still operational after five years," he says. "We also showed that Rhino Linings had a great spread of experienced and knowledgeable dealers and applicators around the country who were capable and willing to meet the needs of our customers.
Rhino also works with a range of facilities to protect and repair holes and tears in conveyor belts. To reduce the cost of downtime, mine companies opt from time to time to effect patch-repairs in the field. A belt is initially blasted with a high-pressure water spray machine to dig into the rubber material of the belt, thereby removing dirt and scarifying the surface. The tear is then held together with appropriately sized repair staples, primed with the appropriate Rhino premium polyurethane primer, and filled and sprayed over with Tuff Stuff to a thickness and span consistent with Rhino's application guidelines, depending on the product being carried and the expected time to the next shutdown.
Initially known for its spray-applied ute tub liner, Rhino now provides a wide range of industrial spray-applied protective coatings for mining, military, infrastructure, water and waste water applications. It has been manufacturing coatings for many years, allowing it to offer a faster service to customers because they do not have to contend with supply delays and disruptions caused by buying materials overseas.
Rhino manufactures all its products in Australia and they are regularly tested to ensure continued compliance with appropriate Australian Standards and international guidelines.
Rhino Linings
1300 887 780
www.rhinolinings.com.au/