Coates Hire deal gives JLG Industries a lift
31-08-2010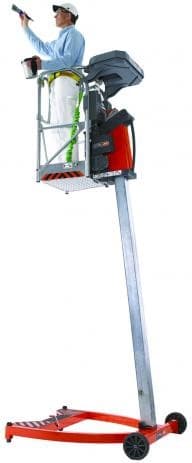 JLG Industries, Inc, an Oshkosh Corporation company, has signed a deal with Coates Hire for the purchase of the innovative FS80 LiftPods.
Coates Hire, Australia's largest equipment hire company, placed an order for the FS80 LiftPods after scouring the market for low height access equipment.
The deal will allow Coates Hire to add a range of LiftPods to its hire equipment portfolio.
According to Robert Rossit, National Product Manager for Coates Hire, there is growing customer demand for portable, powered low height access equipment as construction and building companies move away from using ladders on sites.
Many companies are now seeking alternatives that offer greater safety and minimise the risk of accident. 
The JLG FS80 LiftPod allows users to work safely. It is a powered, portable aerial work platform that lets users work securely at heights of up to 4.5m. 
Lightweight and mobile, the LiftPod can be transported by one person on the back of a utility vehicle. Its portability is due to its innovative and low weight design, which combines a high-strength steel base with a lightweight aluminum mast and platform. 
The platform incorporates an entrance gate and a railing system which allows the user to work with two hands for greater productivity. 
The FS80 model features a big work tray that is easy to use. The tray attaches to the basket and keeps tools and materials conveniently within reach of the user eliminating the need to make multiple trips up and down.
Operated using a 28V power pack or an 18V cordless drill, the FS80 LiftPod is fast, efficient and quiet.
According to JLG, the deal illustrates the growing demand for powered, portable low height access equipment and the FS80 LiftPod in particular.
"The FS80 LiftPod was designed with the user very much in mind," said Mr Jason Watson, Project Manager-LiftPod.
"It's all about providing greater freedom and safety for the user."
JLG Industries
Ph: 02 8394 4444