Coalition to remove 'shackles' from industry
31-08-2010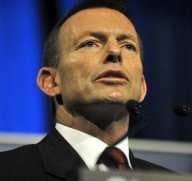 A Coalition government has pledged its support for Australia's manufacturing industries by "removing the shackles that are holding the sector back."
Launching the Coalition's manufacturing policy, Mr Abbott said plans to abolish the carbon and mining taxes were at the core of its policies.
The Coalition remains committed to a strong Australian-based manufacturing sector, Mr Abbott said.
"We believe that with the right conditions it can grow and prosper and continue to be internationally competitive over the long term."
The Coalition's manufacturing policy includes the establishment of a new frontbench position of Minister for Trade and Investment.
The new ministry of Trade and Investment would focus on attracting investment in Australia.
Mr Abbott says a coalition government won't be writing "blank cheques" for the car industry.
"That is not a sensible way for an adult government to behave, but we are happy to sit down with them."
Mr Abbott said the car industry had flourished under the Howard coalition government.
"We have a good record when it comes to working with the car manufacturers," he said.
"We will act in that same spirit in the future."
His party estimates that 140,000 manufacturing jobs have been lost under the present Labor Government.
A Coalition Government would cut red tape to the tune of $1 billion a year and lower taxes, with the aim of keeping employment levels in the sector "more or less constant."
"I want Australia to be a country that makes things," Mr Abbott said.
He said the repeal of the carbon and mining taxes, a company tax cut, cuts to regulation, road building and workplace law reform would benefit manufacturers.
A coalition government would also provide an initial $50 million in export market development grants and put $50 million into a manufacturing transition fund. It would also introduce tougher anti-dumping laws.
Mr Abbott said he is "confident that manufacturing will again start to expand."
The Labor party has slammed the policy.
Industry Minister Senator Kim Carr said he is "appalled" because the Coalition has not backed Labor's measures to support the sector.
"They were not supporting the $1 billion innovation package that we announced, the jobs package, there was $500 million of innovation partnerships in that package," he said.
"There were $500 million for a clean tech program, that's on top of a $500 million the Liberal party are going to take out of the automotive package."
The Coalition's manufacturing policy includes:
Repeal the carbon tax and mining tax
Bring in a 1.5 per cent company tax cut
Delay Labor's compulsory superannuation increases
Strengthen anti-dumping laws
Change Fair Work laws
Review competition laws
Appoint a Minister for Trade and Investment
$50 million boost to export market development grants
Establish $50 million manufacturing transition fund