Coalition's strong focus on industry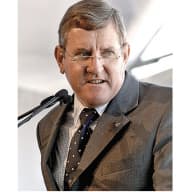 Experienced MP Ian Macfarlane has landed the key Industry portfolio in the new Abbott Cabinet.
Ian Macfarlane was the Shadow Minister for Energy and Resources in Opposition and the Minister for Industry, Tourism and Resources in the Howard Government from 2001 to 2007.
He is one of the most experienced Ministers in the Prime Minister's new Cabinet.
His appointment is at the expense of Sophie Mirabella, who looks certain to lose her Victorian seat of Indi to Independent Cathy McGowan.
Ms Mirabella was Shadow Minister for Industry, Innovation and Science in Opposition.
Mr Macfarlane was first elected to the House of Representatives for Groom, Queensland in 1998.
His appointment reinforces Mr Abbott's pre-election commitment to focus on reviving the struggling manufacturing sector.
Senior liberal Andrew Robb, the Shadow Minister for Finance in Opposition, has been rewarded with the newly created portfolio Trade and Investment.
Mr Robb and Mr Macfarlane will be tasked with driving a new wave of investment in Australian manufacturing, resources and agriculture.
The Coalition announced two new items of funding for manufacturing during the election campaign, worth $50 million each, under its policy to Boost the Competitiveness of Australian Manufacturing.
This includes a Manufacturing Transition Fund, to "provide grant funding of up to $10 million to help communities transition to new and expanding manufacturing sectors."
The Coalition also aims to restore funding to Export Market Development grants, to assist SMEs and further develop export markets.
It has also pledged to cut red tape for small business, saving $1 billion a year by eliminating unnecessary expenses.