COAL MINING THREATENS SYDNEY WATER CATCHMENT
14-09-2017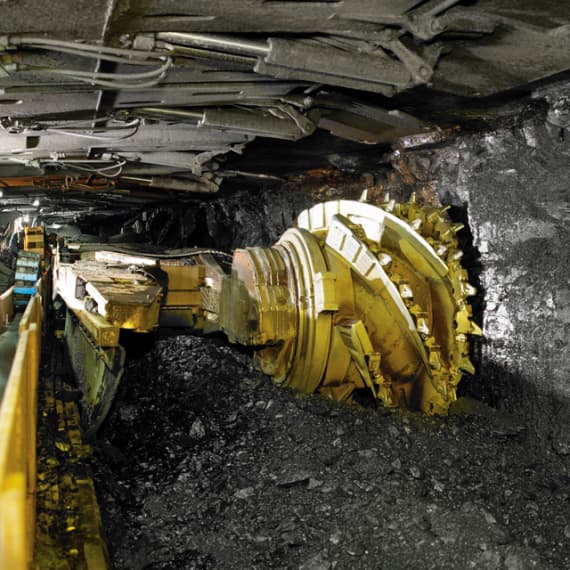 Heavy mining equipment extracts large quantities of material in longwall mining operations.
In a turn of events that some are calling "grave", coal mining that was approved without thorough groundwater quality assesment may be endangering the quality of Sydney's drinking water. 
An independent assesment ordered by the planning department has found ground upheval and cracks running from underground coal seams under Sydney's catchment area all the way to the surface. 
"Investigations at [a] site showed new cracks extended through to the ground surface and the permeability increases post-mining by one to three orders of magnitude", said the report. 
Concerns were initially raised in 2015, when reporting found that the water studies for the mine did not match proposed expansions. Critics called the mine "the most aggressive" ever attempted in NSW. 
"The Area 3B longwalls are the widest currently being extracted in the Special Areas, with what appears to be the largest extraction height ever used in the Special Areas - and among the largest extraction heights used anywhere in NSW," said Dr Peter Turner speaking on behalf of the National Parks Association (NPA) of NSW
Longwall mining, where large amounts of material are removed in continuous slices, requires a significant amount of assessment and planning to mitigate the potential environmental impacts. 
BHP, who owned the mine in 2013 when it was initially established, did not submit a completed groundwater impact study until March 2014. WaterNSW, the catchment authority, said it did not receive that report until October 2014.
The knock-on effects of bulging were not restricted to the mining site, with endangered swamplands up to 900m affected. 
Peter Turner, a spokesman for the National Parks Association, said the situation was "very dissapointing". 
He also noted Planning had withheld the Dendrobium reports from WaterNSW, the Office of Environment and Heritage and the community without explanation for months and was still holding back two other long promised reports.
"The two yet to be released reports provided the basis for the Department's December 2016 approval of two more longwall extractions at Dendrobium. Like the then new mining approved in February 2013, the recent mining was again approved without an appropriate groundwater impact assessment," Turner said.
He said it was "hard to imagine a clearer demonstration that the Department of Planning [who approved the mine] values the very limited returns from the coal beneath the Special Areas far more than the integrity of Sydney's primary public health asset, its drinking water catchment".