CNC MACHINES SPEARHEAD RAPID GROWTH
20-06-2017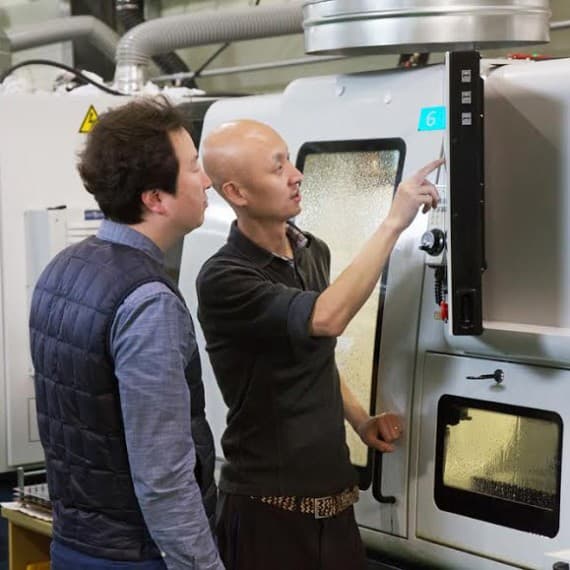 U.P Tools a specialist South Korean tool manufacturer, is undergoing rapid expansion and automation with the help of an Australian company.
With machines purchased from ANCA, an all-Australian business, U.P Tools has been investing in automation to increase production while reducing overhead costs.
U.P Tools originally purchased one ANCA RX7 to make special custom tools and medical implants. Business partners Sung-Jae Lee and Byung-Seung Choi have since grown their facilities to have 12 CNC machines, including ten ANCA CNC tool grinders and two cylindrical grinders.
Mr Lee, joint representative director said: "We think our aggressive growth strategy - having installed 12 machines in three and a half years - has been challenging but we have learnt some important lessons along the way."
"Our Chief Technology Officer Byung-Seung Choi, has a lot of experience in tool processing technology and benchmarking the capabilities of cutting tools. To grow as rapidly as we have, Choi advised investing in more ANCA technology for its flexibility and efficiency."
"In the beginning we produced special custom and medical implant tools and from there we entered the standard end mill and customized cutter market. When the mobile sector started using smart phone technology we knew it was a good opportunity but needed the cylindrical function and laser measurement available in ANCA machines to enter that market. Investing in our machines gave us the capability to provide customers with optimised tools for mobile quickly with a fast cycle time while producing complicated shape processing. It set us apart from other suppliers."
"Another challenge we face is keeping up volume without having people manage the machines 24 hours a day. The government in South Korea has mandated shorter working hours and even though we have grown to eight people we needed something else to enable us to meet our customer's needs. The automation available on ANCA machines has been a great help in this regard. With the automatic loading system and Management Suite software, tools like Production Monitoring will mean we can maintain our competitiveness with less operator hours but not being concerned about reduced quality."
"Like other industries, the tool industry in constantly evolving, experiencing shorter product cycles and increasing demand for tools in a variety of shapes. In addition, due to technological advances in 3D printing, competition with other industries is inevitable. To futureproof our business, we will continue to focus on research and development and invest in technology. Furthermore, given our success in Korea, we plan to aggressively expand our presence not only the US, Vietnam, Japan, Thailand, Hong Kong and China but also in other countries
"Our motto at U.P.Tool is Promise, Trust, Relationship and Partnership and I think the success of every business starts with the above four words. I look forward to continuing to work with ANCA so that we can continue to succeed together," Lee concluded.
ANCA CNC Machines
03 9751 8200
www.anca.com