CNC DELIVERS HIGHEST QUALITY ENGINEERING AT GLOBALLY COMPETITIVE PRICES
15-06-2016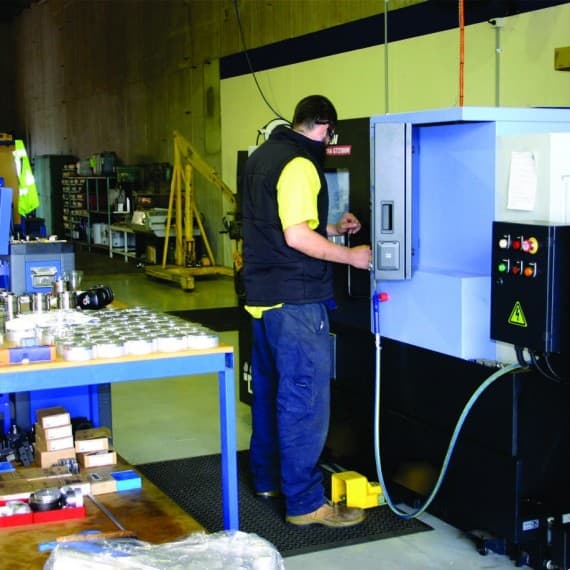 With the majority of high volume component requirements being sourced offshore today, Australian company, CNC Manufacturing has taken the opportunity to create a niche industry using the latest world technology to design and produce high precision metal and plastic componentry for Australian Industry.
CNC Manufacturing owner, David Bridges has demonstrated that with the use of world's best machining equipment and technology, the company is able to produce precision machined metal and plastic components at prices that are highly competitive with off shore competitors whilst supplying a considerably higher quality product than imported equivalents.
During some 25 years experience in machining design and application, David undertook study tours in Germany and Japan to expand his knowledge of global CNC (Computerised Numerical Control) application and technology.
From early beginnings in his home garage utilising a well used 5 Axis Hitachi Seiki CNC mill, David started designing and machining custom components for his car as a hobby.
Seeing the quality and practicality of the products David was turning out, demand soon grew from friends and others wanting similar high quality productions. Now only three short years later, CNC Manufacturing has expanded into new Victorian based premises equipped with the latest in milling and turning machinery and CNC technology.
CNC Manufacturing now have the skill, knowledge and experience to cover a wide range of disciplines by integrating the latest CAD/CAM software, tooling, work holding and cutting techniques.
After a thorough investigation In sourcing the latest in CNC integrated machinery to satisfy the demands of an ever increasing client base, David opted to install a Doosan 3-Axis Milling machine and more recently a Doosan GT2100 7 Axis lathe to boost in-house production through reduced set-ups and un-compromised end product quality.
Both CNC machines were sourced through Hare and Forbes Melbourne. 
The new fully integrated Cad/Cam controlled plant provides CNC clients with increased precision and the capacity to produce extremely complicated shapes and designs. The efficient setup process saves time and money delivering a superior product at world competitive prices.
David's reputation for maintaining the highest quality in precision engineering has seen a constant stream of companies looking to source high quality components in Australia rather than navigate often problematic off shore supply chains. 24 hour quoting and short lead times also enhance the "Manufactured in Australia" benefits of working with a specialised local supplier dedicated to working with their clients to deliver the highest possible quality results. 
With an impressive client list, CNC is delivering high end components for a wide variety of industry needs including: Waterwise Water trucks, RUAG Australia – Aerospace and Defence, GM – Port Melbourne, Xtreme Carbon – high end bicycle components.
CNC manufactured parts range from one-off components to large repetitive manufacturing from either supplied specs, sample products or design briefs.
CNC Manufacturing Pty Ltd
Ph: 03 9735 9794
www.cncmanufacturing.com.au
TAGS: CNC Manufacturing, CNC, Doosan GT2100 7 Axis lathe, machinery