Climbing a ladder to success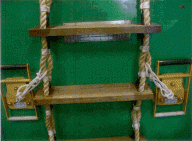 Significant improvements … Serpent and Dove's Yellow Mag Pilot Ladder Magnets 
Pilot ladder magnets are used to anchor and stabilise rope ladders used by maritime pilots to access ships at sea. 
The original Serpent & Dove Yellow Mag Pilot Ladder Magnets have now been significantly improved making them easier to handle and deploy. 
In line with the company's philosophy of innovation and product evolution, the improvements, with patents applied for and patents pending have resulted in a reduction in weight of approximately 33 per cent. 
Also, a cushioned magnet mounting system allows the magnet elements some movement to better accommodate slight curvatures or irregularities in a ship's hull such as weld lines or paint and corrosion scale. 
The big weight reduction makes Yellow Mag much easier to carry and deploy, especially at arm's length. 
While the improved pilot ladder magnet's gripping strength remains the same, new flexibility in both the base plate and the magnet mounting system also makes Yellow Mag easier to remove.
Serpent and Dove Pty Ltd
Ph: 02 9971 7577