Clever chain strip for vertical applications
31-08-2010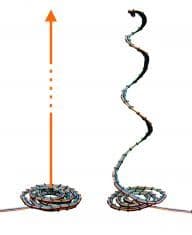 Smart alternative … the liftband from Treotham Automation
The Liftband from Treotham Automation is suitable for long vertical travel paths where only a low basic height of the energy chain system is permissible. 
Like a paper streamer, the strip can be pulled a long way up from an almost completely flat initial position – where space is limited the strip can also be arranged in several following layers. 
It is made up of only a few parts, which allow a wide range of configurations. Its basic shape can be round, rectangular or square, meaning that adaptation to customer requirements and space conditions can be done "tailor-made" in almost all cases.
The modular system comprises of three basic elements: straight and curved strip pieces as well as clip-on cable clamps. 
The connected strip segments determine the basic shape, the cable clamps connect the segments and route the cables at the same time. 
The frame options include: 
Easy (for the simple clipping in of the cables)
Snap Open (frame with hinge) and 
Height-adjustable lockable frame (adaptation of the inner height to quantity or diameter of the cables). 
Since the chain links do not rub against one another, the system has an extremely low level of wear and is very quiet. 
Taken together, the properties of the Liftband make it an alternative for a whole series of applications including zigzag applications used in platform technology.
Treotham Automation
Ph: 02 9907 1778