Published 19-09-2019
| Article appears in October 2019 Issue
CLEVER AUSSIE INVENTION MAKES EXTENSION LADDERS SAFER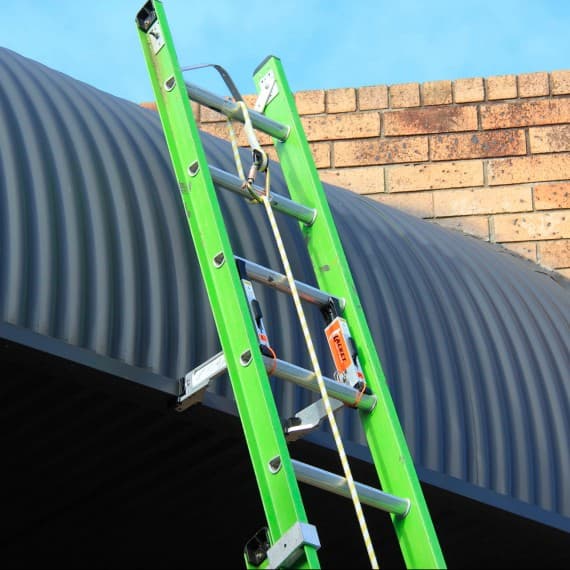 There's no doubt that the humble ladder is one of the most useful tools ever invented. However, used incorrectly it can also be one of the most dangerous, with countless falls recorded each year leading to dislocations, broken bones, severe lacerations and head injuries, and in some cases workers have died.
While safety authorities recommend that in an ideal world nobody should use an extension ladder alone, there are bound to be occasions where single-handed ladder use is inevitable. And that's where the Lacket comes in.
The Lacket is the brainchild of two mates from the Illawarra – one an engineer and one a paramedic who was fed up with seeing the results of falls from unsecured ladders.
The novel device will fit to any standard extension ladder, and secures the ladder against any overhang, preventing it from slipping sideways or falling backwards.
Importantly, the Lacket secures the ladder before the user climbs it – unlike other ladder safety devices that require the user to climb the ladder to secure it.
The concept is deceptively simple: the ladder is simply "wedged" into place using the Lacket, rather like wedging a chair under a door handle. And just as pushing against a chair-wedged door makes the wedging effect stronger, pulling against a Lacket secured ladder has the same effect.
The Lacket is made in Australian using stainless steel, T-6061 alloy and high-density impact-resistant plastic. Each pair of devices comes with safety straps for tying off the base of the ladder, ensuring that the ladder is fully jammed into position and cannot be moved.
For applications where there is no overhang available to anchor the Lacket, an optional stabiliser bar is available that allows the devices to operate against a flat wall or on a roof.
The Lacket has been extensively tested by qualified bodies, and in 2017 received the SafeWork NSW Award for best solution to an identified workplace health and safety issue for small business.
The Lacket Company
lacket.com.au