CLEARING THE WAY FOR LOW-EMISSION COMBUSTION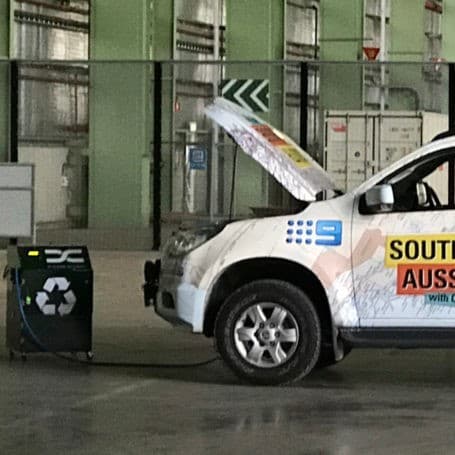 The D-CARB portable system (above) attaches easily to engines, and can complete a full clean in half an hour.
A South Australian company is producing a device that saves time, cuts down on emissions, and makes engines more efficient. 
Say hello to the D-Carb, a a fast, easy, and waste-free engine-cleaning solution that strips away carbon buildup from all types of internal combustion engines. 
The 30-litre portable D-Carb Global machines take 30-60 minutes to clean an engine and can be used on up to three engines – such as passenger cars – simultaneously, significantly reducing labour costs.
The mobile machine initiates electrolysis that creates hydrogen and oxygen vapour. The vapour is then piped through the engine via a hose attached to the air filter, effectively oxidising the carbons and pushing them out of the vehicles exhaust.
"There's a significant environmental benefit and cost benefit so anyone who puts it in is not just saving the world, (through reduced carbon emissions), they're saving money as well," D-Carb Global CEO John Stewart said. 
He said the portability and cost effectiveness and short treatment times the units allowed meant they were ideal for automotive outlets, vehicle dealerships, transport companies, mining operations, fishing fleets, public transport providers and mechanical workshops.
According to Stewart, tests and modelling at a transport company with a fleet of 100 trucks that were treated with the machine as part of regular servicing led to initial fuel savings of 7.8 per cent and net savings of $100,000 a year.
"What we've got here is an opportunity for continuous carbon reduction. It reduces all forms of toxic emissions – nitrogen oxides, carbon dioxide, carbon monoxide, hydrocarbons," he said.
Stewart said the first units would likely be sold in March with strong early interest coming from China, Canada and Australia.
He said he was also working on a number of further projects which would elevate the D-Carb system both in terms of carbon reduction and data management. 
D-Carb Global is working with a local manufacturer in Adelaide to ensure production can be scaled up quickly. It is also looking for distributors in international market, particularly the United Stated and South East Asia.