Clean up your act with Actisafe
31-08-2010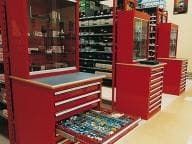 Tools that are often seen mounted to all available walls of a workshop or trade depot can now be contained within Actisafe's Parts Store.
Made from steel, Actisafe Parts Store units come complete with abundant drawer space, shelving and worktops.
With the addition of drawer dividers, a small amount of space ensures high amounts of industrial equipment and components can be stored in every single cabinet.
This leaves working areas organised and clean-looking.
With Actisafe Parts Store units, workshops remain far more organised and are easily maintained in pristine condition.
Actisafe is a Defence Recognised Supplier, so all of its product lines are associated with durability and professional finish.
And Actisafe Parts Store units are extremely versatile.
The open configuration of these modular-style units ensures at a glance the clearest view of what tools or components are there and what is missing or needs replenishment.
Product is sized according to the user's requirement and is provided in any colour or configuration.
Actisafe Parts Store units are not just strong and bump resistant, but also powder coated at Actisafe's coating plant to withstand the elements and prevent rust incursion.
The units can be put on industrial strength castor rollers with long life bearings.
This ensures long, continuous operation, even on a 24/7 duty cycle.
Actisafe
Ph: 1300 852 397