Clean up your act with Actisafe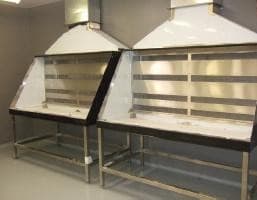 Defence preferred supplier Actisafe now designs and manufactures its own grit blasting and painting benches.

The benches can improve occupational health and safety levels at Australian industrial workplaces.

Made of a solid, steel construction, the new Actisafe technology is suitable for most industries including general industrial, automotive repairs, mining maintenance, government workshops, or any other application where painting or grit blasting is part of the fabrication process.

Comprising a fan extractor system, the Actisafe grit blasting and painting bench safely captures and contains any fines or sprays when working on it.

Each unit is provided with side enclosures to ensure complete capture of all unwanted residue, thus preventing any from escaping at the edges.

Solid in construction, the Actisafe grit blasting and painting bench is supported by a rugged, welded tubular steel frame that provides a high level of sturdiness during the fabrication process.
With easy to clean surfaces, the technology is not only functional, it always looks presentable.

Actisafe
Ph: 1300 852 397
www.actisafe.com.au