Clean sweep: Kärcher still leads the way
05-07-2013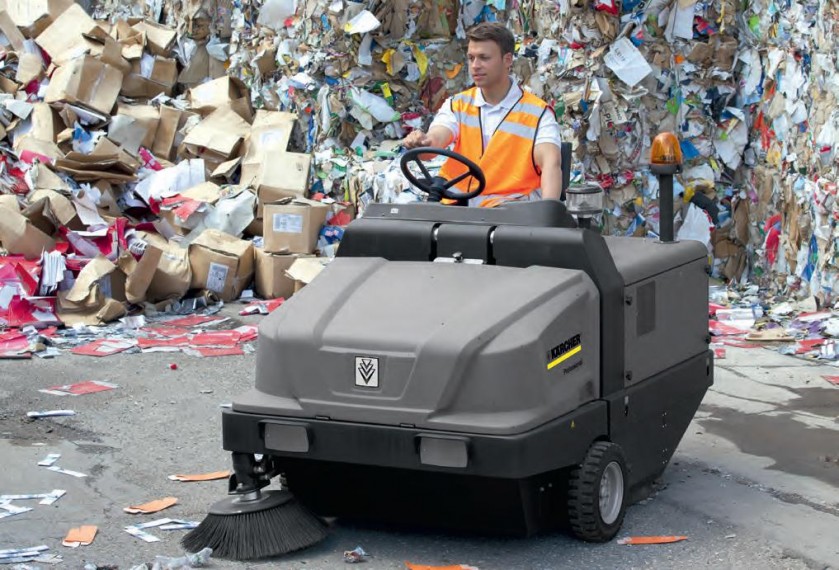 In 1935, Alfred Kärcher developed the first European hot-water, high-pressure cleaner.
Since then, Kärcher has become a household name and diversified its product range to cover every facet of the domestic and professional cleaning markets.
Over the years Kärcher's engineers have developed products and advanced cleaning systems for every imaginable industry and cleaning requirement. Dry cleaning In the food industry, hygiene equals safety. Highly efficient, German-engineered mobile industrial vacuums are certified in accordance with Ex-RL 94/9 EG for all dust classes of Zone 22. Ideal for vacuuming fine particles, broken glass and swarf these machines are hard working, versatile, efficient and resilient. With special accessories made of heatresistant materials, from the suction nozzle to the filter fleece, ovens can be cleaned in minutes without lengthy cool downs. Ice blasting units clean filling and mixing systems and production lines of stubborn residues such as grease, starches, crustifications or cooking – with no detergents or water.
You name it: Kärcher can provide a vacuum system what will allow uninterrupted production and maximum hygiene.
Wet cleaning
Wet cleaning carries inherent risks but using the appropriate hard surface cleaner with a vacuuming system minimises the wet time of any surface.
Any areas in which animal or plant oils and fats are worked with (especially meat) have the strictest requirements when it comes to hygiene and safety.
Stationary high-pressure cleaners are the ultimate in economic efficiency, with special mobile units designed to provide professional-level pressure and cleaning power over large areas. Kärcher provides blue food-safe high-pressure hoses with an outer layer that does not bleed colour and is resistant to animal grease. Kärcher's hard surface cleaner for floors and walls achieves 10x the surface cleaning rate compared to high-pressure jets, without risk of contamination due to splashback.
Kärcher scrubber driers are the ultimate hassle-free wet floor cleaning solution; high pressure scrubbers clean the floor while a vacuum sucks up any remaining water and pollutants, leaving the surface dry and ready to walk on, universal, interchangeable heads make the unit adaptable to any surface in minutes.
Office cleaning
Office spaces present their own unique challenges of textile surfaces with constant traffic and delicate electronics. Kärcher offers an extensive range of dry vacuums, wet and dry vacuums and innovative carpet and steam cleaners of all sizes designed for offices, ensuring a hygienic and safe operating environment for staff.
Outdoor cleaning
The outdoor areas of a company are the face of a company, as well as being busy transportation centres. Stopping the dirt at the door is one of the easiest ways to ensure a clean work environment.
High-powered sweepers are areas are an economical way to keep operating areas and entrances clear of debris, meaning less risk of factory contamination of having dirt tracked into offices. Kärcher sweepers range from manoeuvrable, traction drive walk-behinds to the fully hydraulic ride-on sweepers that can handle large areas with ease.
Countless cleaning tasks – one system
As a total cleaning solution provider, Kärcher can provide the single unit as well as specific complete solutions for floors, walls and ceilings as well as machines, tools and vehicles.
This includes:
• High pressure cleaners
• Water reclamation
• Scrubbers and scrubber driers
• Wet & dry vacuums
• Carpet cleaners
• Sweepers and sweeper vacuums
• Municipal implement carriers
• Drinking water systems solutions
• Vehicle cleaning for car, bus and trucks
• Industrial vacuums
• Parts cleaners
• Dry ice blasters
• Tank interior cleaning
• Work protection
• Cleaning agents
Karcher Pty Ltd Australia
Ph: 03 9765 2305