Clean-up with Spitwater vacuums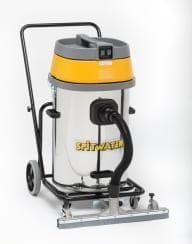 Spitwater is Australia's largest manufacturer of cleaning and heating equipment.  
The company's imported vacuum cleaner range offers solutions to most cleaning challenges.
The humble vacuum cleaner is one of the most widely used tools in business today.  Their applications vary from being used to clean offices and shops on one side, through to the wet and dry vacuum cleaners used by tradies and workshops, to the very sophisticated, high capacity, industrial vacuum cleaners used to clear unwanted matter from industrial production machines on the other.
Spitwater offers three ranges of vacuum cleaners, suitable for a wide variety of applications: Goldline and Silverline commercial vacuum ranges as well as Delfin industrial vacuum range.
Goldline is Spitwater's premium range of vacuum cleaners.  The range has nine different models, including dry only as well as wet/dry machines. This Italian made range of machines is supplied standard with high quality Ametek motors as well as quality tools and accessories.
Lower end of the range models use single 1,100W (max) motors, while the top end of the range models offer both two as well as three motors, making them very high capacity machines.
Smaller models in the Goldline range are very popular for general cleaning such as offices and shops.  
They are also favoured by tradies and smaller workshops because they are tough and sturdy, easy to use as well as carry around.  
The medium size range uses the larger, 40 mm hose size and larger industrial type tools.  Although they are single motor machines, these cleaners offer larger capacity and are excellent for smaller warehouses as well as work sites for removal of larger quantities of waste.
The large end of the Goldline range offers four models, all with 60L waste bins.  
Two are two-motor machines using the large 40mm hose and tool set.  
The other two are genuine three-motor vacuums, which use the 50mm diameter hose and tools, a real advantage when you have to collect large volumes of waste and water.
These machines are ideal for large warehouses, factories, removal of large amounts of waste from building sites, concrete slurry and similar type of cleaning – high capacity machines for really big jobs.  
Both two and three motor machines offer a CBE model, a machine, which has a large 60cm outrigger at the front which is used for vacuuming very large areas quickly. 
Silverline is Spitwater's economy range of vacuum cleaners.This range offers five models that mirror the Goldline range but at a more economic price bracket.  All five models are wet/dry machines.  
Four models feature stainless steel tanks and one, a specialist water collection machine, has a poly tank and a drain ball valve.
Two smaller models feature single, 1100W motor and have 15 L and 30 L waste bin capacity, respectively.  
The Spitwater Delfin range also offers highly specialised machines such as compressed air driven and explosion proof models designed for use in mines and on oil rigs.  
These machines have no electric motors and use venturi suction units and are fitted with a special anti-static filter.  
Spitwater
Ph: 1300 SPITWATER