Clean Plus finds the winning formula with St.George Bank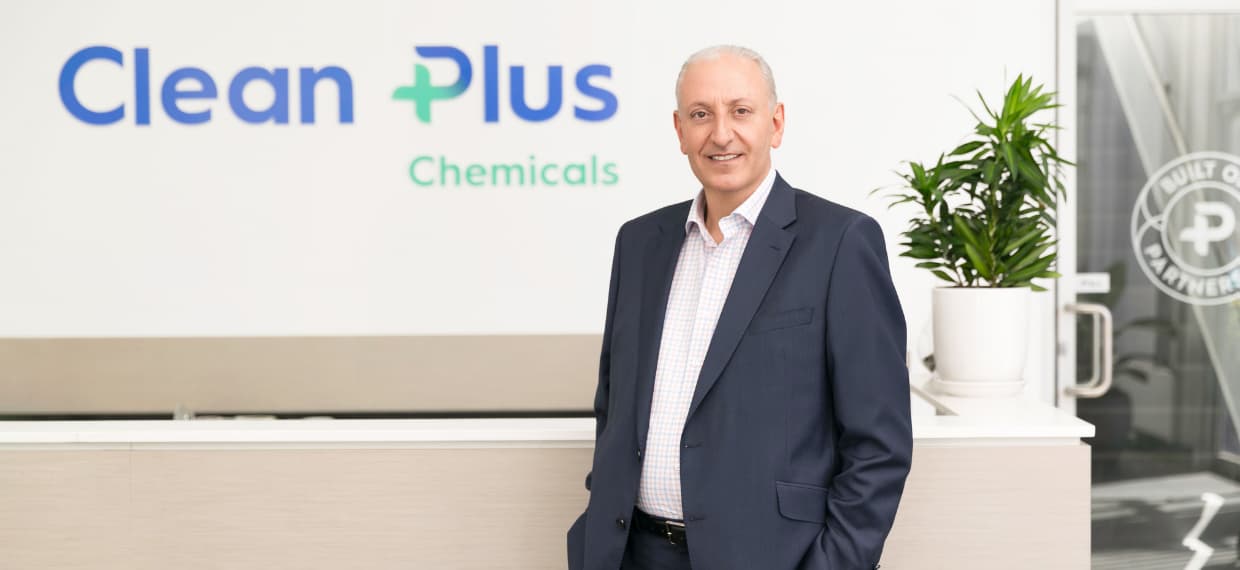 Clean Plus CEO, Wasim Farhart runs one of Australia's hardiest manufacturing businesses located at Auburn, a light industrial suburb in Sydney. For 30 years, he has helmed the cleaning supply business which became an essential service during the recent COVID crisis.
Farhart started the business in 1992 after he and his family (originally from Lebanon) migrated from France. He had already graduated with an engineering degree, and had been working for a food processing company where he became acutely aware of the need for high levels of cleanliness for food manufacturers.
It was while he was operating within the French food processing industry, that he observed the opportunities for selling bleach. He brought that insight to Australia with the plan to establish what has now become Clean Plus.
Setting up a business as a migrant in the nineties had its challenges, including a hefty $87,000 start up cost required to fund the initiative and the initial lease on a 210sqm premises at Roselands. Whilst the challenges were apparent, Farhart was committed to realising his vision to "formulate and manufacture the highest quality cleaning and hygiene chemicals in Australia."
Developing the right team
Over the years, as Farhart built his business, he created and refined his own formula for business success, held together by a loyal team and overwhelming family support. His brother, also an engineer, assisted with initial funding while his wife was a pillar of strength, particularly in the early days when she became the single income earner for close to five years.
Farhart's focus on attracting and retaining employees has been a cornerstone for the business' success, with General Manager Nikki Hursaslas contributing to the team for 27 years.
Staff retention has always been a top priority, which Farhart attributes to a team-first culture where everyone works with a sense of "partnership" within the
organisation.
"The key is to give employees a comfortable workplace with initiatives and incentives while keeping communication clear."
"They need to feel that they are remunerated above the market rate. We make sure we offer a 10-20 percent profit share and I'm blessed to have a business like this which feels like family," he said.
Despite the production pressures of such an unexpected increase in demand from COVID-19, Farhart's team of trusted and loyal companions pulled together as needed, sometimes running three shifts over 24 hours to meet demand.
Building business resilience
The Clean Plus business model is one based around flexibility and innovation with a pure B2B focus. Supplying to the highly competitive hospitality, healthcare, aged care, food processing, laundry, automotive and commercial industries requires a resilient operation.
"When COVID hit we grew significantly, and have maintained a 16 percent per annum growth rate since" Farhart explained.
One of Clean Plus' highest revenue generating units is the 'white label' service which is offered alongside the comprehensive product catalogue. Clean Plus offers an extensive range of customised solutions to meet the cleaning needs of its customers.
"This enables them to stand out and make an impact with a customised range of branded products with personalised packaging, " he says.
"One of our ongoing challenges is to keep clients happy so that they don't get tempted by our competitors, so we are always thinking of the next innovation."
"There are currently three to four projects that we are working on. This includes a product that is based on enzymes as well as tablets that make cleaning more environmentally friendly," he said.
Consistent growth
Since the first office and warehouse were set up in Roselands, Clean Plus has been on a geographical journey through Condell Park (450sqm) and Milperra (750sqm) before finally settling at Auburn in 2008 at more than 3,000sqm.
The company also owns two large warehouses in Brisbane and Perth. With the support of St. George and the relationship fostered by Head of Manufacturing and Wholesale NSW andRegional General Manager, Matt Kelly, Clean Plus is poised to upscale once again.
This includes new warehousing facilities next door to the current Auburn location, along with an investment in new blending vessels, packaging machines and a new platform using AI, all with the aim of diversifying production.
Kelly, who has known Farhart for nearly six years said, "We love working with Clean Plus and have proudly fostered a strong relationship with them. They are incredibly focused on growing their business and have done so successfully year on year since 1992. I'm happy to say we've been able to meet their complex needs to allow them to further grow their warehousing and manufacturing footprint.  We've also connected them with the right contacts to assist with Government Grants."