Clean, grease-free vertical pump bearings offer long-lasting and economic high performance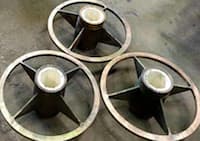 High performance oil-free and grease-free vertical pump bearings from Cut To Size Plastics are engineered to offer long wear life and high abrasion resistance, along with dry startup capability, eliminating the need for pre-lubrication systems.
The low-friction elastomeric and thermoplastic range of Thordon bearings absorb impact or shock loads with a dampening capacity nearly 500 per cent greater than rubber and with abrasive wear rates far superior to brass and other traditional alternatives, says Cut To Size Plastics managing Director Mr Laurie Green.
"Thordon bearings are self-lubricating, which reduces abrasion and prevents wear. They also have a lower dry coefficient of friction, which improves efficiency in frequent stop-starts. Low friction bearings also operate longer, wear less and have reduced start-up torque and "stick-slip", high temperature capabilities and Improved chemical resistance, says Mr Green.
Thordon pump bearings are used in open and closed tube vertical pumps found in a wide range of industries including thermal and hydro-electric power plants, pulp and paper mills, sewage and wastewater treatment plants, steel mills, oil refineries, chemical refineries and shipyards. Pump types include cooling water, circulating, drain, fire, dry dock, deep well, drain water lifting, condensate, submersible and screw lift.
Technical staff at Cut To Size Plastics can draw on the company's engineering plastics experience of more than 40 years to advise which product is best for particular applications or as a replacement for metals that is easier to handle, fit and replace than older solutions.
Thordon bearings from Cut To Size Plastics are corrosion resistant and can withstand high temperatures encountered in industries such as process engineering and food and beverage manufacturing. ThorPlas-Blue bearings – which are part of a boarder purpose specific range3 – can be used in water and chemicals up to 80°C (176°F) while polymer grades operate up to 60°C (140°F). ThorPlas-White is listed by the NSF International Certification and WRAS for NSF/ANSI/CAN 61 Drinking Water System Components, as well as is classified as an accepted material by CFIA.
Offering flexible sizing, easy machining without nuisance dust, and straightforward installation, Thordon bearings such as ThorPlas-White offer good dry-run capabilities due to built-in lubricants, as well as reduced starting torque energy benefits, says Mr Green.
Resilient Engineering and Supply Chains
Mr Green says the speed with which bearings in the Cut To Size range can be installed and removed is a major time-saving advantage in installation and maintenance practices, optimising uptime and reducing delays where crews are working within tight time frames.
"Such flexibility, coupled with low wear and hygiene benefits, are also a major advantage to Australasia's machine-building industry, as it rises to the challenge of making us globally competitive in a post-Covid and politically troubled world. In doing this, it is important to ensure not only optimum technical and engineering support, but also secure local supply lines that are resilient to events beyond our own control."
Cut To Size Plastics Pty Ltd has been supplying Engineering Plastics to Australian and International customers for over 40 years The company is committed to meeting Australian and International Quality Standards and to working within the guidelines issued by State WorkCover authorities.
The company holds extensive stocks of Nylon, Oilamid, Acetal, Teflon and UHMWPE combined with HDPE, PVC and Polypropylene to complement service to Australian Industry. The company also has access to the most advanced engineering plastics worldwide, including glass filled, carbon filled and fabric reinforced plastics.
We will cut it, rout it, bend it or machine it, all to your specifications. Our comprehensive CNC machining facility at Yennora, coupled with GibbsCAM™ and Solidworks™ software makes it easy to deal with us. Your drawings go into our computer – then to the CNC machines.