Clean up with atom supply
31-08-2010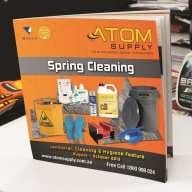 ATOM Supply is a leading industrial hardware and safety equipment supplier with over 35 years experience providing expert knowledge and assistance to industry. 
ATOM Supply has full-scale warehouses located in Welshpool, Henderson, Kalgoorlie, Geraldton and Karratha in WA, as well as Darwin, Brisbane and soon to be open, Mackay in northern Queensland.
ATOM Supply has released a new Spring Cleaning feature as part of its publication range, with specials from August 1 until October 31. 
Containing more than 190 products from the janitorial, cleaning and hygiene category, it is the perfect reference for your Spring cleaning requirements.
The catalogue includes brooms, bins, mops and buckets, paper towel, hand sanitisers, cleaning wipes, laundry detergents, disinfectant, gloves, warning signs and water pressure cleaners. 
You can pick up a free copy of the Spring Cleaning publication from your local ATOM Supply warehouse, or request a free copy by emailing your name and address to:
marketing@atomsupply.com.au
.
ATOM Supply
Ph: 1800 999 024