CLEAN UP ON ABRASIVES FOR SUBSTANTIAL SAVINGS
29-05-2017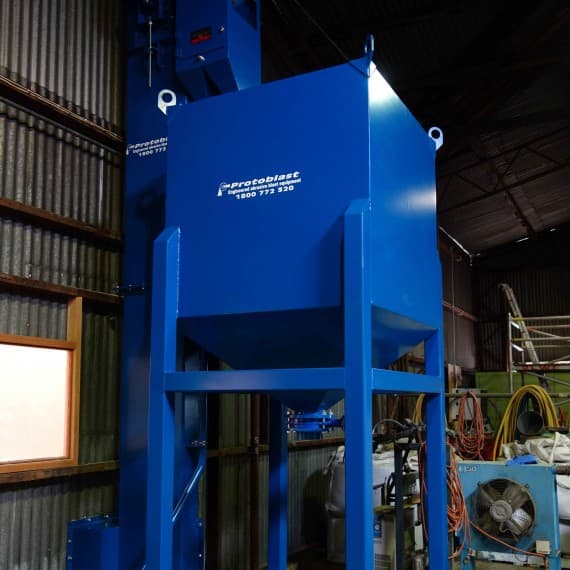 An abrasive recovery and cleaning system can be as compact as this basic unit installed at a Protoblast client's blast chamber
Many companies using abrasive blasting within their manufacturing processes are literally throwing money away, according to Ben Noble of abrasive blasting specialist Protoblast.
Garnet and steel grit are the two most commonly used commercial abrasives. And with garnet costing $500-600 per tonne and steel grit at $1500 per tonne, these are consumables that can put a significant dent in a company's bottom line.
"The trouble is," says Noble "that many people don't realise just how much abrasive they are using."
"A truckload seems to last a long time, and they just re-order when they run out. But when they sit down and analyse the figures they are surprised to find that they are getting through tens of tonnes of abrasives every year."
Fortunately, there is an answer. And that is in the form of an abrasive recovery and cleaning system from Protoblast.
The company's bespoke recovery and cleaning systems collect the abrasive after blasting and separate out both the debris from the workpiece and the exhausted abrasive dust to leave "good as new" abrasive ready to be re-used.
So effective is the process, that the company tells its users to expect to re-use garnet abrasives around six times and steel grit an impressive 100 times.
According to Ben Noble, with figures like this, it becomes easy to justify the investment in the system. "The cost of the abrasive is the sell for the cleaning system," he says.
What's more, the reduction in waste from each blasting session reduces disposal costs – particularly in applications where the workpiece has been contaminated with dangerous substances, such as lead-based paints.
Protoblast specialises in the end-to-end design, fabrication, installation and maintenance of abrasive blasting systems. Recovery and cleaning systems may only be a component part of these systems, but they may well be the key to profitable blasting.
Protoblast Company
1800 772 320
www.protoblast.com.au