CIRCUIT BREAKERS HELP MAINTAIN PLANT AVAILABILITY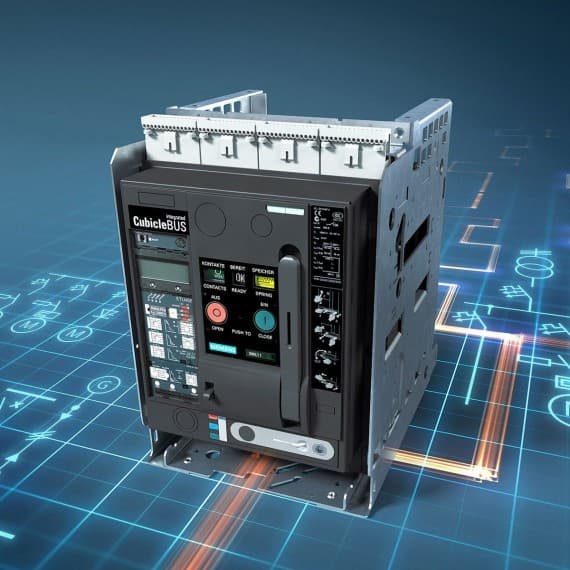 Noted for their compact size and high current load rating, Siemens 3WL air circuit breakers (ACBs) are suitable for use as incoming feeder, coupler and outgoing feeder circuit breakers. These versatile ACBs available from APS Industrial are at the heart of many industrial power distribution systems, maintaining plant availability thanks to their inbuilt communications capabilities.
The modular design of the core of the 3WL range is built around a choice of five different electronic trip units that provide communication and measurement functions as well as enhanced protection functions, which enables them to adapt perfectly to plant requirements.
The rated current module is integrated within the electronic trip unit. And as the modules are so easy to replace, these ACBs have the flexibility to be modified at any time when plant conditions change.
Another leading feature of the range is the communication module that connects the ACBs to higher-level management systems via Profibus DP or Modbus RTU. If required, the module can be connected to external I/O modules to enhance local communications.
The motor operating mechanism supports automatic tension and charging of the circuit breaker and allows remote control. This can also be easily retrofitted at any time.
Status and fault diagnostics of the plant can be performed quickly and easily via signals from the auxiliary switches, signalling switches and position switches.
Locking devices prevent unintentional operation and provide reliable protection for personnel and plant during both operation and maintenance.
Available in fixed mounted or withdrawable versions, the Siemens 3WL range of ACBs from APS Industrial meet the protection, safety and transparency requirements of industrial power distribution applications to achieve the best possible protection levels.
APS Industrial
1300 309 303
apsindustrial.com.au