Choosing the Right Helmet for the Job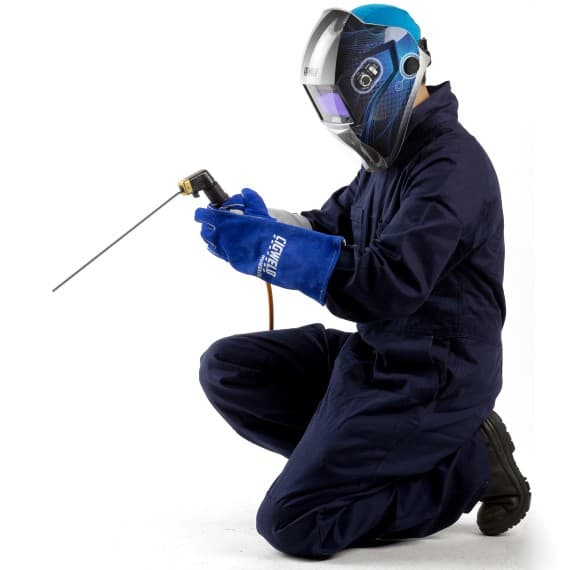 In Australia, welding and grinding are responsible for nearly a third of all eye injuries, resulting in more than 500 people being admitted to hospital each year.
Aside from the pain and inconvenience caused, that results in thousands of lost hours – as many as 26,000 by some estimates. For a busy construction or mining business, that's a lot of downtime.
As you might expect, a lot of these injuries occur when people don't wear protection. In a survey conducted by Monash University in Victoria, as many as half of those injured through welding related activities and a third of those injured through grinding related activities didn't report wearing any eye protection at all.
But the fact remains that even with protection, far too many people are getting injured. Why? Because they're relying on inappropriate or sub-standard equipment, or simply not using it properly.
When welding, the biggest risk is "flash" or "arc eye" – a sort of sunburn to the cornea, caused by staring too long at harmful ultra violet rays (like arc light). This injury can be extremely painful and potentially debilitating.
When grinding, you must be wary of a disc spinning at 7,000-odd RPM or flying debris – normally hot shards of metal, which can easily be flicked underneath or through the sides of safety glasses and become embedded in the eye.
So how can you protect yourself when welding or grinding?
It's critical to choose the right equipment and that means wearing a proper, fit-for-purpose welding helmet that not only protects your eyes but also offers full facial and neck protection – reducing the impact of arc rays that can cause burning of the skin.
One of the reasons welders get injured is because they remove their protection too early. If you're welding for hours at a time, or you're grinding in a hot and cramped environment, it's crucial that you're not itching to rip your helmet off the moment you've finished a weld.
Look for something that:
• Is comfortable and lightweight
• Has a good sweatband to keep the sweat out of your eyes, and
• Has a good field of view.
In short, look for a helmet that you'd feel happy wearing all day long.
To minimise injury and maximise the quality of your workmanship, you want to be able to focus on the job in hand.
Look for a helmet that:
• Is compliant to Australian Standards
• Is auto-darkening and has adjustable shade settings
• Has a minimium of two light sensors, more premium helmets have 4 sensors that will respond with greater sensitivity to changes in light.
• Has a minimum reaction time of 1/20,000th second
• Is made of durable hardwearing material – ideally high impact rated if you are going to use it for grinding as well
• Ideally allows you to change between welding and grinding modes at the single push of a button
• Has easily replaceable batteries and possibly even solar assist – to prolong battery life.
CIGWELD's ProLite welding and grinding helmet was launched to market in February this year.
It features four highly sensitive sensors, that can take readings and make adjustments to the variable lens in less than 1/20,000th of a second. Even at very low amperages, the helmet knows exactly how much light to let in. This makes it ideal for low current AC & DC TIG work as well as more powerful stick and MIG jobs.
The ProLite not only runs on regular, replaceable CR2450 lithium batteries. It features a clever solar panel which draws energy from the arc rays it's exposed to and uses that to power up the lens – prolonging battery life in the process.
Vision is also improved with a generous viewing area of 98mm x 55mm, welding is not just easier – it's more precise too. You can keep your head steady and your focus on the job in hand.
A simple button allows you to switch between welding and grinding modes, so you're not plunged into darkness the moment you pick up your grinder. There's an optional magnification lens too, which slots in easily to make light work of more fiddly jobs.
Best of all, unlike most other welding helmets on the market, the ProLite range is fully compliant with Australian Standards and the stringent requirements that are laid out in AS/NZS1337.1 & AS/NZS1338.1.
CIGWELD
Ph: 03 9474 7329
www.cigweld.com.au