Choosing a 3D printer
31-08-2010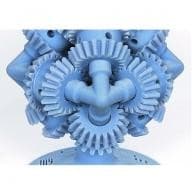 Choosing the right 3D Printer for your business can be a challenging proposition.
All 3D Printers have their own unique benefits and advantages.
Determing the right solution for your business involves understanding how the benefits of each 3D printing technology apply to your businesses specific applications.
Asking the right questions:
Some of the questions you will need to answer before reaching your decision relate to:
Surface finish
Part accuracy
Range of materials
Mechanical properties of those materials
Print speed
Build tray size
Post processing time required after printing
It is crucial you answer all of these questions (and more) in order to find the most suitable solution to meet you business needs – now and in the future.
Objective3D staff are industry experts with many years experience in both Polyjet (Objet) and FDM (Stratasys) 3D printing technologies.
They can guide you through the benefits of each technology so you can decide which system is best suited to your applications.
Objective 3D
Ph: 03 9785 2333