Published 18-04-2019
| Article appears in April 2019 Issue
THE CHOICE OF TOOLS FOR SUPER-ACCURATE MOULDS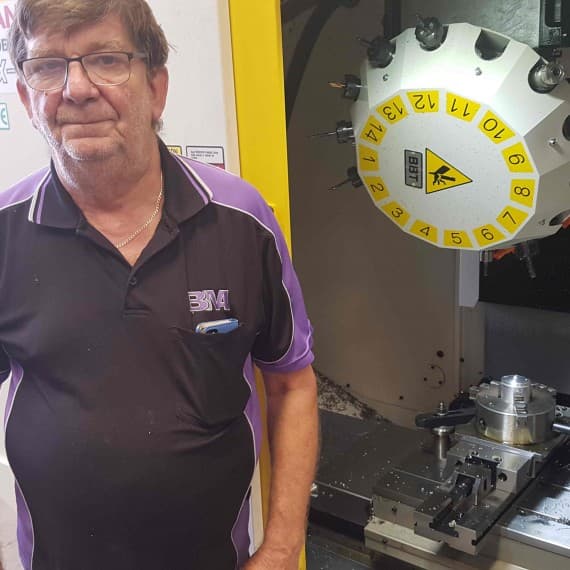 Ron Wraight says the latest Robodrill has some useful bells and whistles
Not surprisingly, the most sought-after quality in the moulding industry is accuracy, so for many years, moulders throughout Australia have been willing to go 'the extra mile' to reach the source of super-accurate moulds. That is why there is a well-used trail to the semi-rural Sydney suburb of Glendenning, and the workshop of Ron Wraight at BlowMoulds Australia.
Acknowledged as a master of his craft, Wraight has been in the business of making moulds for the blow-moulding industry for more than four decades. He is understandably picky about the machine tools and ancillary equipment in his Owen Street workshop.
His obsession with accuracy shows especially when he selects new equipment, and this was the case when he recently purchased a brand-new machining centre. For a second time, he selected a Fanuc Robodrill from Fanuc's exclusive distributor for Australia, 600 Machine Tools of Seven Hills.
BlowMoulds Australia has had a Robodrill since 2010, and it has performed reliably, but the latest models produce an absolutely superb finish.
"For example, moulds do not need a week of polishing, but can be machined to the desired level of surface finish in only one or two days," Wraight says. "Even the more challenging aluminium moulds can now be produced to extremely high specs – and delivered in half the time.
"Therefore, by acquiring the Robodrill D21MiB5 model, we have not only increased our capability, but our capacity, too."
Zelko Galic, a qualified engineer and Asia-Pacific Managing Director of 600 Machine Tools, commented on Wraight's choice of machine.
"The Robodrill family was designed by Fanuc of Japan to meet the demands of global industries where high precision is the top priority – notably aerospace, electronics, and healthcare," he says.
"Manufacturing plants, such as those in the plastics industry, are on a never-ending quest to find mouldmakers able to provide fast, high-quality repeatability, accuracy and surface finish to exacting toolroom accuracy standards (DIN 8605) and beyond.
"This is exactly what the Robodrill D21MiB5 provides, and this stable and highly-reliable machining centre meets Ron's uncompromising insistence on high precision coupled with high speed."
Wraight worked closely with the team from 600 Machine Tools throughout the project. There was close liaison during the selection of the right Robodrill model for the tasks envisaged, through installation and commissioning, and the 'operator update' procedure.
"Since our last acquisition, Fanuc has added a few more very useful 'bells and whistles' to the Robodrill range, and we are already seeing the benefits in our Glendenning toolroom," Wraight says. "This compact machine has enabled us to continue providing what our clients want – moulds with superior surface finish – and what we want – to deliver the fruits of our labours on time and on budget."
Sydney-based 600 Machine Tools, part of the global 600 Group, has been the exclusive agent for Fanuc in Australia for many years. It has a nationwide network to service all its machines, along with ample supplies of renewable parts and consumables, and comprehensive training programmes.
In addition to hands-on training, the company has exclusive rights to Fanuc's acclaimed CNC simulator, described by engineers and workshop managers around the world as "the most significant breakthrough in training for machine tools ever to be launched".
The simulator is based on the Fanuc Series 0i – Model F platform, and can be operated in either milling or turning configurations. It is portable, and requires only a standard electric outlet.
Students can program it as a 3-axis mill or a 2-axis/1-spindle turning system, and by learning process-orientated conversational programming, students can focus on machine operations instead of just G-code, which leads to faster, more efficient operations.
600 Machine Tools
02 9674 4738
www.600machinery.com.au