| Article appears in February 2019 Issue
TO CHIP OR NOT TO CHIP – ARE WE READY FOR HUMAN IMPLANTS?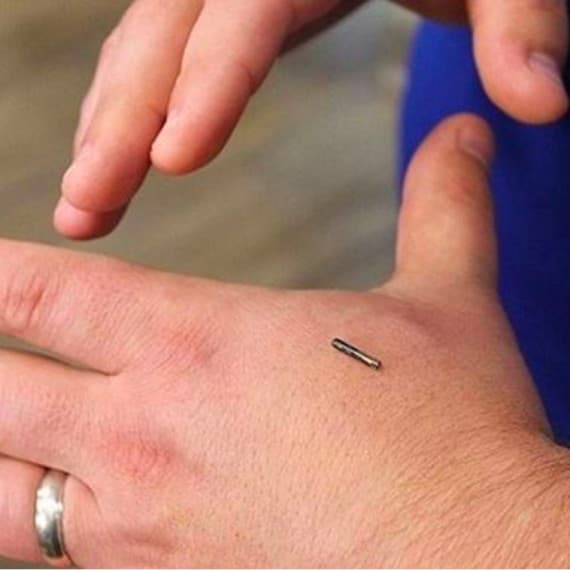 The convenience of opening doors or logging onto computers with the wave of a hand is now possible with new technology that enables humans to be microchipped.
A human microchip is the size of a grain of rice and it is implanted into the hand, between the thumb and forefinger, in a quick and fairly painless procedure. In fact, we've been microchipping animals for decades for tracking purposes, so it is an established technology.
Today's human microchips use either RFID or lower power NFC as used in phones, tablets and laptops.
In 2017, Wisconsin company Three Square Market became the first US company to microchip employees. Now, more than 90 of its 200 employees are microchipped and able to open doors, log onto computers or buy snacks from the company vending machine with their hands.
UK firm Bioteq, a business that provides human microchip implants, has already fitted 150 implants in UK workers. However, in November the UK Trades Union Congress raised concerns on the 'obvious risks' to workers, including that employers may use the microchips to monitor their staff.
TUC General Secretary Frances O'Grady said: "Microchipping would give bosses even more power and control over their workers. There are obvious risks involved, and employers must not brush them aside, or pressure staff into being chipped."
In Australia microchipping exploded into the public sphere when biohacker Meow-Ludo Disco Gamma Meow-Meow fell foul of authorities by taking apart his Opal Card and implanting the chip into his hand.
While using a microchip implant to 'tap on' public transport isn't yet legal in Australia, the technology is already popular in Sweden where rail company SJ allows commuters to use microchip implants to pay for their fares.
Australia's reluctance to embrace microchipping in workplaces reflects fears that privacy will become obsolete if employers can track the activities and data of their employees through the chips. However, as the chips themselves are passive they cannot beam information to anyone unless they come in contact with an electronic reader.
The knowledge of being microchipped may even reduce productivity, as a union-backed University of Wisconsin study in 1990 found that electronic surveillance of workers leads to higher levels of workplace anxiety, stress and exhaustion. Then there's the added stress that microchip implants can also be hacked, with the added risk that a compromised chip could not be as easily switched off or disposed of like a card or a key.
A dystopian future where employers can track, control and abuse the information stored on microchips can be avoided with protective legislation. In Australia the law is that employers must give 'lawful and reasonable directions' to employees, so the argument to microchip employees for convenience may not justify this major intrusion on their privacy and security.
Legislation has struggled to keep up with the technology and is behind on providing workers with protection from employers mandating microchip implantation. But industrial instruments like the Fair Work Act require workforce consultation on any major change likely to impact employees, and microchipping surely qualifies.
According to Elon Musk, humans must become cyborgs to remain relevant in a future with where artificial intelligence can do our jobs. Microchipping is an option, but in Australia at least the uptake will remain slow until the ethical and legal issues are dealt with.