CHINESE SUBMERSED SEA-LAB CONSTRUCTED FOR AMBIGUOUS PURPOSES
13-06-2016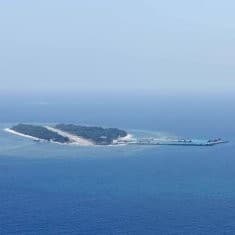 Indications exist that there may be a military purpose to a new underwater sea-lab, despite the official reason being 'assisting the hunt for minerals' in the disputed naval territory of the South China Sea.
The sea-station could be located as far down as 3,000 metres, but few other details are available. There is no publicly accessible cost analysis, blueprint, final location, or even an estimated timeline.
The project, according to Bloomberg, is included in China's current 5-year economic plan, and in their list of the 100 top priorities.
"Having this kind of long-term inhabited station has not been attempted this deep, "said CSBA senior Bryan Clark, "but it is certainly possible. Manned submersibles have gone to these depths for almost 50 years."
China has recently been aggressive in its claiming of territory in the South China Sea, claiming ownership of more than 80% of the waters and creating 3200 acres of artificial islands.
These actions have been unfavorably received by other nations, who might be likely to view this newest expansion as a further provocation. 
Xu Liping, senior researcher at the Chinese Academy of Social Sciences, has said that "China's project will be mainly for civil use, but we can't rule out it will carry some military functions. Many countries in the world have been researching these kind of deep water projects, and China is just one of those nations."