Chinese manufacturing still on the decline
31-08-2010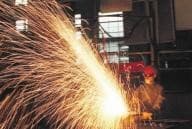 The Chinese manufacturing industry contracted for the eighth straight month in June, following a heavy decline in new orders, according to a private survey.
The HSBC Purchasing Managers' Index showed the Chinese manufacturing sector shrank 0.2 points in June to 48.2, little changed from a preliminary estimate of 48.1.
The pace of contraction is the fastest recorded ion seven months, according to the study.
HSBC said the result was indicative of a modest pace of deterioration in business conditions. Any reading below 50 indicates contraction.
"For the second quarter as a whole, the index averaged its lowest quarterly value since the first quarter of 2009," the study said.
A fall in demand weighed heavily on operating conditions, according to the study, with total and foreign new orders falling at an accelerated rate.
"New export orders placed at goods producers dropped at the steepest rate in over three years," HSBC said.
"North America and Europe were both cited as sources of new order book weakness."
The month-on-month fall recorded in overall new orders was the strongest yet in 2012.
"The drop in total new orders led to a further decline in manufacturing output, extending the current period of contraction to four months," the study said.
"However, the rate of decline in factory output remained marginal."
The study comes after official figures showed growth in Chinese manufacturing fell to a seven-month low in June, despite government efforts to arrest a slowdown.