CHINESE AVIATION COMPANY BUYS 13% STAKE IN VIRGIN AUSTRALIA
31-05-2016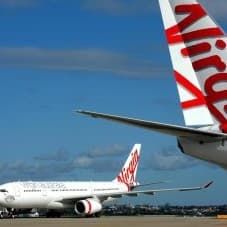 Virgin Australia has signed off on a deal that gives HNA Aviation, a Chinese Company, 13% stake in the Australian airline.
HNA's main brand is Hainan Airlines, which has a range of investments in non-Chinese carries, as well as operations in a range of carries across China.
The company is investing $159 million into Virgin, and buying its stake at 30 cents per share, a 7.1 per cent premium from the last trading period of 28 cents a share.
Virgin said that HNA is committed to raising that stake to 19.99 per cent and it is supportive of the Australian airline's capital structure review, as Air New Zealand has made indication that it will be selling all of its shares in Virgin Australia. 
At the moment Virgin Australia's major share holders are: Air New Zealand (nearly 26 per cent), Etihad (24.2 per cent), Singapore Airlines (22.75 per cent) and Virgin Group (just under 10 per cent).
This deal has been indicated to creata direct line of flight from Australia to China, although chief executive John Borghetti declined to comment on which cities would be on the list. 
"There is a lot of attraction to operating into Beijing, for example, there is also a lot of attraction in operating to Hong Kong, but that's still being worked through," he told reporters in a telephone briefing.
"There are also some secondary cities we're looking at ... wherever the operations are to it will be a significant schedule, it won't be just one or two flights a week."