CHINA'S AUTO PRODUCTION SLUMPS
16-10-2015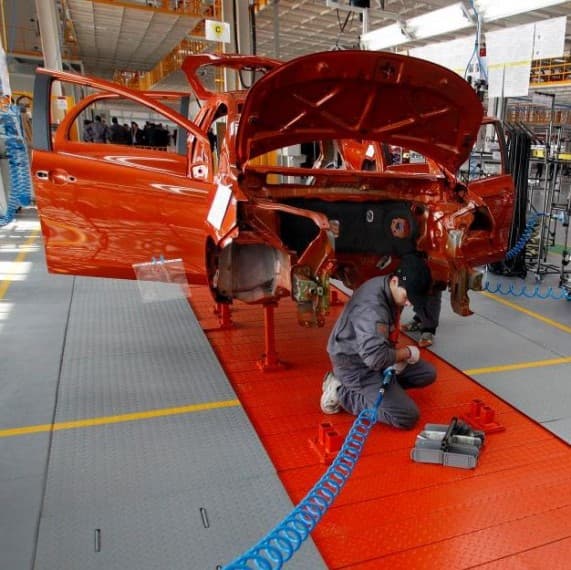 China's automobile production sector, once the backbone of its manufacturing industry, has been in steady decline in recent months.
China is the world's biggest auto market by volume, but in the past year the market has been facing headwinds.
Gross auto sales for the first half of 2015 grew at the slowest pace in more than six years.
The industry was hard hit by the July stock market crash, which dented the net worth of many middle class Chinese, the chief target market for domestic Chinese automakers.
In July, the China Association of Automobile Manufacturers was forced to slash its forecast of 2015 vehicle sales growth by more than half, from 7 percent to a mere 3 percent.
The car sales slump created excess inventory at dealerships, which forced factories and assembly plants to cut back.
Earlier this month both the official China and the Caixin/Markit purchasing managers index (PMI) came in below the critical threshold of 50, indicating the industry is in contraction.
And more recently leading aluminium producer Alcoa Inc revised its forecast downward more than four fold.
On its third-quarter earnings call, Alcoa CEO Klaus Kleinfeld cut its estimate for China's 2015 automotive production growth to 1-2 percent, down from its 5-8 percent previous forecast. For heavy-duty trucks and trailers, Alcoa sees a decline of 22-24 percent, down from a more manageable 14-16 percent decline previously thought.
Last month industry forecaster IHS Automotive reduced its full-year sales figures for the Chinese automotive market to 23.4 million vehicles, or a growth of 1.4 percent for 2015, down from 4.4 percent growth it previously forecasted. IHS also forecasts that capacity utilization at plants to fall to 65 percent from 70 percent in 2014 (70 percent is generally believed to be a break-even point).
Last month, China's largest automaker SAIC Motor Corp. cut its projected sales growth of passenger and commercial vehicles to zero this year.
In a bid to reverse the trend, Beijing recently announced a tax cut on purchases of small cars to boost sales. The 10 percent purchase tax would be cut to 5 percent for cars with displacement of 1.6 liters or smaller. Presently, such vehicles make up the majority of car sales in China's domestic market.