CHINA PLANS TO REPLACE WORKERS WITH ROBOTS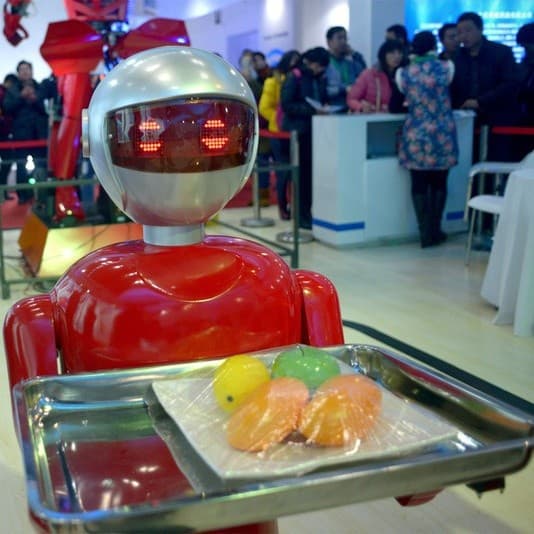 China is planning the new robotic revolution with new plans to automate work done by millions of low-paid workers.
The government's plan is necessary to the reform of the economy and meeting ambitious production laws shown in their latest economic blueprints which include, doubling per capita income by 2020 from 2016 levels with at least 6.5% annual growth.
The vice president of the People's Republic of China, Li Yuanchao, appeared at the country's first major robotics conference, held in Beijing, showing the governments commitment to this plan and the advancement of technology. Li presented a message from Xi Jinping, China's leader, congratulating the efforts made. He also talked at lengths, mentioning that robotics would be a major priority for the country's economic future.
The robots that were on show at the conference were service or entertainment robots such as automated vacuum cleaners, drones, and robots that are to be used as personal companions. The increase in industrial robots that indicate a boost for China's manufacturing sector.
The plans aim to increase deployment of robots into manufacturing plants, increasing efficiency and meaning that many workers can be replaced. The robots would be able to create jobs for those in charge of maintaining, designing and creating the new workers.
The guide to upgrading China's manufacturing industry is underway under the program Made in China 2025 which aims at making China an innovative and sustainable "world manufacturing power" by 2025.
The overhaul will be about more than just installing more robots; some jobs preformed by humans cannot be easily automated and will need more sophisticated hardware and software.
A member of the Chinese Academy of Engineering and an expert in industrial automation, Tianran Wang, said to the manufacturing industry at the Beijing that it lagged behind other nations and would need a major technological overhaul.
He also talked in regard to the challenges such as figuring out which tasks can be automated, and how machines and humans can share the workload.
"Not all labor-intensive industry can be automated," Tianran said. "We need hybrid automation."