China manufacturing slows again
31-08-2010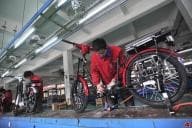 China's manufacturing sector slowed sharply in May, as global economic uncertainties weaken demand.
China's official purchasing managers' index (PMI) for manufacturing indicated a steeper than expected slowdown as did separate data released by British banking giant HSBC.
The official Chinese government data showed domestic consumption eased and export demand dropped off in May. New orders fell in the month, as did the measure of export orders.
The official purchasing managers' index showed the sector continued to expand, but at a much slower pace, easing to 50.4 from 53.3 the previous month.
China's official PMI has remained above 50 for the past six months.
The HSBC data marked the seventh consecutive contraction in manufacturing activity and the bank's chief China economist Qu Hongbin said the figure pointed to a slowing of the economy.
"May's final reading confirmed that manufacturing growth slowed further on weakening demand from both global and domestic markets," he said.
"This points to a continuous slowdown of the real economy in the second quarter and should promote Beijing to step up easing efforts in the coming months."
HSBC's PMI data for May stood at 48.4 compared with 49.3 in April, as demand slowed in both China's own markets and abroad.
HSBC chief Asia economist Fred Neumann says the official figures would leave room for the Chinese government to take more stimulus measure to boost the economy, which would lift demand for Australian commodities.
"The good news is if China roles out a stimulus it will help arrest a slowdown that we're currently seeing, and therefore should help to stabilise commodities," Mr Neumann said.
"And on the other side, it is difficult to see a sharp rebound in Asian growth anytime soon."