China manufacturing slows
31-08-2010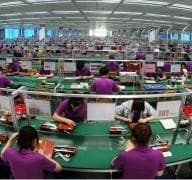 China's manufacturing sector is showing signs of a pronounced slowdown, due mainly to sluggish foreign demand.
According to the latest HSBC flash Purchasing Managers Index, manufacturing output in the world's second largest economy hit a two-month in April.
The slump has renewed fears that China's recovery will be weaker than expected.
HSBC's preliminary purchasing managers' index (PMI) decelerated to 50.5 in April from a final 51.6 the previous month.
A reading above 50 indicates expansion while anything below points to contraction.
The April preliminary result came in lower on the back of decreasing new export orders and employment, according to the British bank.
HSBC's chief China economist Hongbin Qu says China's manufacturing industry is still growing, but the slowdown in the pace of growth will worry the government.
"Weaker overall demand has also started to weigh on employment in the manufacturing sector," said in a statement.
"Beijing is expected to respond strongly to sustain the economic recovery by increasing efforts to boost domestic investment and consumption in the coming months."
China's 2012 growth of 7.8 per cent was its slowest in 13 years owing to weakness at home and in overseas markets.
China is targeting growth of at least 7.5 per cent for this year.