CHINA MANUFACTURING SHRINKS FOR THE FIRST TIME IN TWO YEARS
03-02-2015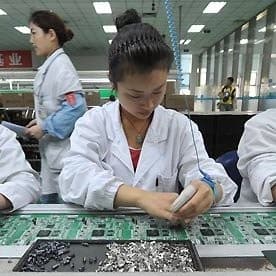 China's manufacturing activity contracted for the first time in more than two years in January, according to the latest industry survey.
The official purchasing managers' index (PMI) released by the national bureau of statistics was 49.8 last month, down from the 50.1 recorded in December.
The index, which tracks activity in factories and workshops, is considered a key indicator of the health of China's economy. A figure above 50 signals expansion, while anything below indicates contraction.
January's figure was the first contraction for 27 months.
The British bank HSBC said last month that a preliminary reading of its own PMI edged up to 49.8 in January from a final reading of 49.6 in December. It was at the break-even point of 50.0 in November.
Past experience suggests that there could be significant front loading effect before the Chinese New Year, which would provide short-term impetus to the manufacturing industry.
The Chinese economy is struggling with not just stalling factory growth, but also other problems including soft exports and the weakening property market.
It grew 7.4% in 2014, slower than the 7.7% in 2013 and the worst since the 3.8% recorded in 1990.
Authorities have used various kinds of limited stimulatory measures such as targeted cuts in bank reserve requirements – aimed at freeing up funds for lending – and a cash injection into the country's five biggest banks for re-lending.