China manufacturing on the rise again
31-08-2010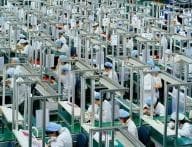 China's manufacturing activity grew in November for the first time in 13 months, according to the latest industry data.
The China HSBC Flash Manufacturing Purchasing Managers Index (PMI) rose to a high of 50.4 in November, the latest indicator of recovery in the real economy.
This was up from a final 49.5 in October, after 12 consecutive months in negative territory.
A reading above 50 indicates growth in the key sector, while one below signals contraction.
"As November's flash reading of HSBC manufacturing PMI bounced back to the expansionary territory for the first time in 13 months, this confirms that the economic recovery continues to gain momentum towards the year end," Qu Hongbin, chief China economist at index sponsor HSBC, said in a statement accompanying the data.
"However, it is still the early stage of recovery and global economic growth remains fragile. This calls for a continuation of policy easing to strengthen the recovery."
China's economic growth hit a more than three-year low of 7.4 per cent in the three months to September, but recent data has fuelled optimism that the worst is over.
Exports, industrial production, retail sales and fixed asset investment – a key gauge of infrastructure spending – have all shown improvement.
The rosier outlook comes as China concluded an overhaul of the Communist Party's top leadership last week.
HSBC said it would release its final November PMI data on December 3. China's official PMI for November comes out on December 1.
This month's PMI reading above 50 is likely to be seen as a turning point by the market, particularly if it is born out by the final reading and by official indicators.