CHINA MANUFACTURING PLUNGES TO LOWEST LEVELS SINCE GFC
26-09-2015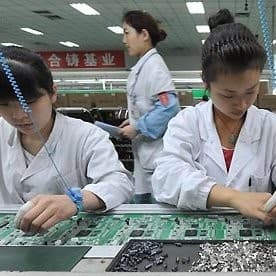 Chinese manufacturing has contracted at its fastest pace since the height of the global financial crisis, according to new factory survey.
The general manufacturing purchasing managers' index indicates a deterioration in conditions – and a contraction in the sector for seven consecutive months.
The Caixin "Flash" Purchasing Manufacturing Index, an unofficial but influential reading of manufacturing activity, fell from last month's reading of 47.3 to 47.
That is the worst outcome since the depths of the global financial crisis in early 2009.
A reading below 50 indicates a contraction in activity – the further below 50, the faster the contraction.
The market had instead forecast a marginal improvement to 47.8.
Falls were recorded in virtually all key areas including factory output, new orders and employment. Output prices also fell at a faster rate than the previous month.
The fall is in line with other recent weak readings of the domestic economy.
Many analysts believe weakness in the export-reliant manufacturing sector may mean further devaluation of the yuan is inevitable in the coming months.