CHINA MANUFACTURING HITS 15-MONTH LOW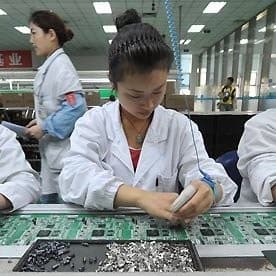 Manufacturing activity in China tumbled to a 15-month low in July, according to new industry data.
The preliminary reading of Caixin's Purchasing Manager's Index (PMI) came in at 48.2 this month. A figure above 50 signals growth, while anything below indicates contraction.
In a joint statement with Markit, a financial information services provider, the fall was attributed mainly to weak demand.
The figure was the lowest reading since 48.1 in April 2014, according to Markit's data.
The index, which tracks activity in factories and workshops, is seen as a key barometer of the country's economic health.
Caixin took over sponsorship of the PMI survey from British banking giant HSBC this month, reports AFP.
July's flash PMI was worse than the market expected, Chen Xingdong, a Beijing-based economist with BNP Paribas told AFP.
"China's industrial economy has had a hard landing or is in industrial recession in my opinion," he said.
Industrial output in the country grew just 6.8 percent year-on-year in June, while the producer price index – a measure of costs for goods at the factory gate – declined 4.8 percent, official figures showed.
"The core reason is effective demand remains weak," said Chen, adding China had become a less competitive exporter than many other developing countries while domestic consumption had barely improved.
Third-quarter growth was "under enormous pressure", he said. "Although I don't think it will decelerate further, the recovery momentum is extremely feeble."
China's economy expanded 7.4 percent last year, the weakest pace since 1990, and slowed further to 7.0 percent in each of the first two quarters this year.
July's final PMI data is due on August 3.