China manufacturing growth continues to slow
15-02-2010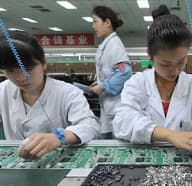 China's manufacturing growth fell to an eight-month low in February, according to latest government figures.
The purchasing managers' index (PMI) fell to 50.2, the National Bureau of Statistics reported on its website, in the third straight drop from 50.5 in January, 51.0 in December and 51.4 in November. A figure above 50 indicates expansion.
This marked China's 17th consecutive month of manufacturing growth but at a slowing rate – the lowest since a June reading of 50.1. 
China's economic growth has weakened in recent years, hitting 7.7 per cent in 2013, the lowest level since 1999.
Analysts expect a further drop to 7.5 per cent this year.
The lowered forecast comes as Beijing has pledged to reform the country's growth model so that consumers and other private actors play a more significant role, rather than massive and often wasteful state investment.
Whereas in the past authorities have reacted quickly to inject cash to stimulate a slowing economy, recently they have remained tight-fisted instead.
Two liquidity crunches occurred last year in part because officials sought to impose stricter discipline over banks amid burgeoning debt levels.
The recent Lunar New Year, China's most important holiday, may also have dampened results, Bank of America Merrill Lynch economists Ting Lu and Xiaojia Zhi said in a research note.
"We believe the drop was mainly impacted by the Lunar New Year holiday," they wrote, adding that they expected a bounce back up to 50.5 in March.
"Markets will likely respond negatively to the reading but the impact could be limited. Policies are unlikely to be impacted by these distorted PMI readings," they said.
In another closely watched indicator of Chinese manufacturing, British banking giant HSBC said last week its preliminary PMI reading for February dropped to a seven-month low, to 48.3, down from a final figure for January of 49.5.
HSBC is set to release its final PMI reading for February on Monday.