China manufacturing ends year on a high
31-08-2010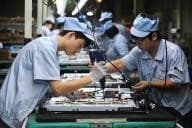 China's manufacturing sector ended the year on a high note with promising signs for continued growth in the new year.
The preliminary purchasing managers' index (PMI) released by global banking giant hit 50.9 this month – a 14-month high. This was up from a final 50.5 the previous month, when the figure returned to growth after 12 consecutive months of contraction.
A reading above 50 indicates expansion in the key sector, while one below signals contraction.
According to HSBC data the December reading is the highest since October last year, when the figure was 51.
Qu Hongbin, a Hong Kong-based economist with HSBC, said the PMI figure "confirmed that China's ongoing growth recovery is gaining momentum, mainly driven by domestic demand conditions."
The increased demand along with a rise in retail sales has fuelled optimism that the worst is over for the world's second largest economy.
On the downside, exports rose just 2.9 per cent in November, much lower than market expectations.
This raised concerns on the sustainability of the recovery.
China's leaders are expected to hold a key annual meeting later this month to lay out major economic policies and goals for the new year.
The preliminary PMI is based on approximately 85-90 percent of total PMI survey responses each month, HSBC said, adding that the month's final reading will be released on December 31.