China manufacturing continues to rise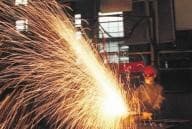 China's manufacturing activity grew in November for the second month in a row, according to the latest industry data.
China's purchasing managers' index (PMI) reached 50.6 last month, up from 50.2 in October and 49.8 in September, the National Bureau of Statistics said in a statement.
A PMI reading above 50 indicates expansion while anything below points to contraction.
The rise was reflected in a private survey of Chinese manufacturing released recently by HSBC, showing growth for the first time in 13 months.
The HSBC purchasing managers' index reached 50.4 in November, up from a final 49.5 in October and 47.9 in September.
China's economic growth hit a more than three-year low of 7.4 per cent in the third quarter from July to September, but recent data have fuelled optimism that the worst is past.
Exports, industrial production, retail sales and fixed asset investment – a key gauge of infrastructure spending – have all shown improvement.