China manufacturing activity jumps to 18-month high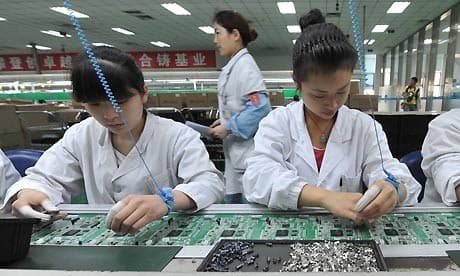 Chinese manufacturing activity has risen well above forecasts this month to record its highest reading in 18 months.
The HSBC flash PMI came in at 52.0 for July – well above Bloomberg analysts' expectations of 51.
A reading above 50 on the survey points to expansion, while a reading below 50 indicates contraction.
There was also good news on the outlook, with a sub-index of new orders reaching 53.7.
The latest reading puts the world's second-biggest economy on track for an economic recovery.
HSBC chief China economist Hongbin Qu said both new orders and new export orders expanded at a faster pace than in June.
"The employment and prices sub-indices also improved. Meanwhile, stocks of finished goods contracted at a slower pace."
Mr Qu said economic activity had continued to improve in July, which suggests the cumulative impact of the country's mini-stimulus was still filtering through.
"We expect policy makers to maintain their accommodative stance over the next few months to consolidate the recovery," he said.
The improving Chinese outlook caused the Australian dollar to jump above the 94c mark against the US dollar, with the expectation of increased demand for the country's resource exports.