China manufacturing activity hits 7-month low
31-08-2010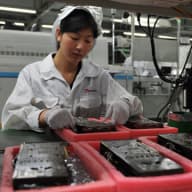 Chinese manufacturing contracted this month as activity hit its weakest pace in seven months, according to preliminary data.
According to the HSBC, the monthly Purchasing Managers' Index dropped to 48.3, compared to a final reading of 49.5 in January. A reading below 50 suggests contraction, while one above 50 shows expansion.
The sub-index for manufacturing output also hit a seven-month low, while the employment gauge showed a faster decrease than in the previous month.
The new-orders component swung to a decrease as well, with new export orders also showing a decline, though at a slower pace than in January.
HSBC chief China economist Hongbin Qu said the result reflected "renewed destocking activities."
"Underlying momentum for manufacturing growth could be weakening, Qu said. "We believe Beijing policy makers should and can fine-tune policy to keep growth at a steady pace in the coming year."
The flash PMI usually includes 85% to 90% of the survey responses used for the final report, which is expected to be released on March 3.