China manufacturing at 8-month low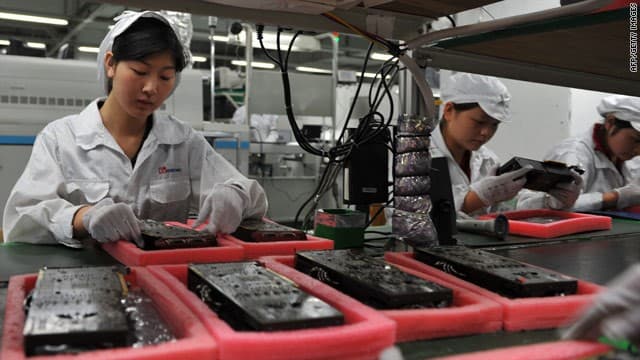 Chinese manufacturing activity contracted in March to its weakest rate in eight months, according to latest industry data.
The data further indicates slowing growth in the world's number two economy.
HSBC's preliminary purchasing managers' index (PMI), which tracks manufacturing activity in China's factories and workshops, fell to 48.1 from a final reading of 48.5 in February, the British bank said in a statement.
The figure is down from 49.5 in January and was the worst result since July's 47.7, according to the bank.
The index is a closely watched gauge of the health of the Asian economic powerhouse and key driver of global growth.
A reading above 50 indicates growth, while anything below signals contraction.
China's National Bureau of Statistics said earlier this month that its own official PMI reading fell to an eight-month low of 50.2 in February.
The latest figure "suggests that China's growth momentum continued to slow down" in March, Qu Hongbin, HSBC's Hong Kong-based chief China economist, said in the statement.
"Weakness is broadly based with domestic demand softening further," he added.
HSBC expects Chinese authorities to take policy steps to stabilise the economy, with actions including easing barriers to private investment, spending on urban railways, public housing and fighting air pollution, as well as "guiding lending rates lower", Qu said.
Analysts suggest the government may announce a series of measures to inject life back into the Asian powerhouse.
"The government needs to take quick action in view of its growth target of about 7.5 percent," Barclays Capital said in an analysis of the PMI data.
Zhang Zhiwei, economist at Nomura International in Hong Kong, expects leaders to cut the amount of funds banks must keep in reserve in the second half of the year - a step they have used in the past to boost liquidity.
He also expects fiscal policy to turn "expansionary" in the second quarter to prevent gross domestic product growth from falling below 7.0 percent.
China Premier Li Keqiang said at a recent press conference the economy was set to "confront serious challenges this year".
The economy grew 7.7 percent in 2013, the same as in 2012 – which was the slowest rate since 1999.
Source: AFP