CHINA FACTORY ACTIVITY SLIPS TO THREE-YEAR LOW
04-09-2015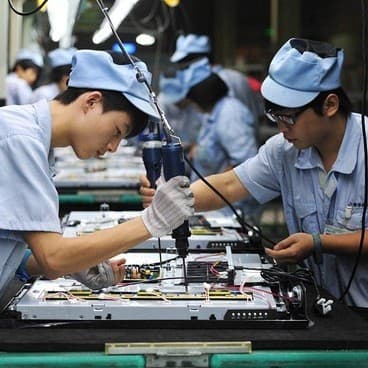 China's giant manufacturing sector is operating at its weakest level in three years according to latest data.
The official Purchasing Managers Index for August declined to 49.7, down from 50 the previous month. The reading was slightly below expectations.
It is the first release of official data since Beijing devalued the yuan on August 11, panicking global markets amid fears of a hard landing for the Chinese economy.
A reading below 50 indicates the sector is operating below its long-run average. 
Analysts say some of the weakness could be temporary, as the latest slip in manufacturing may have been aggravated by temporary factory closures aimed at controlling pollution around the nation's capital ahead of celebrations marking the 70th anniversary of the end of World War II.
"There is insufficient growth momentum in the country's manufacturing sector," said Zhao Qinghe, an economist with the National Bureau of Statistics in a statement.
The Chinese economy is forecast to grow at around 7 per cent this year, but markets now fear this number is unreachable without significant government stimulus.
One sign that Beijing is unwilling to let the economy slow significantly has been a recent pick-up in credit growth, often regarded as the single most important factor in China's economic performance.
It hit a 31 month high in July and has increased by 20 per cent over the last three months, suggesting activity will rebound later in the year.
Chinese Premier Li Kegiang said the economy was showing signs of improvement after a series of measures to boost growth, though he said the government still needed to do more to ensure that growth didn't come up short.
So far China has slashed interest rates five times since November and made repeated moves to let banks lend more of their deposits.
It has also offered tax breaks for businesses and accelerated approvals for infrastructure projects.