Chill-out with Port-A-Cool
31-08-2010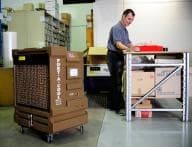 Cool solution … Port-A-Cool evaporative cooling units
Port-A-Cool is a world leader in Portable Evaporative Cooling units. 
Distributed in Australia by Portable Cooling Systems, these units are ideal where traditional air-conditioning is unavailable, impractical or cost prohibitive. 
Designed and built in the US, all units are durable one-piece molded plastic polyethylene housing, that is rust-proof and leak-proof. They perform at a fraction of the cost of standard air-conditioning.
The Port-A-Cool units lower ambient temperatures an average of 8-14ºC.
These highly advanced, portable evaporative systems are easy to operate, easy to clean and easy to maintain.
Port-A-Cool units can increase productivity by making the working environment more comfortable. They can be used to cool machinery or product that may be damaged or ruined if allowed to overheat. They are also ideal as a "spot cooler."
Port-A-Cool units are easy to setup and operate, straight out of the box. 
All units operate on 240V electricity, and only require tap water. They are portable, powerful and practical. 
The units are available in six sizes and 10 models to suit your cooling needs, with immediate delivery.
Portable Cooling Systems Pty Ltd
Ph: 03 9357 5212