Children's book helps to boost literacy
24-07-2013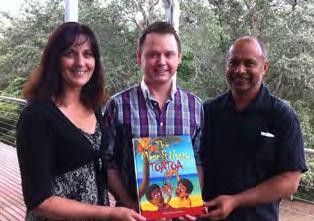 Have you ever considered adopting a child? Well now you can adopt a whole school full of children – and make a huge difference in their future.
Authors Dianne and Simione Beranaliva are hoping a new children's book The Mean and Nasty Toatoa will help to improve the plight of hundreds of school children throughout Fiji.
"One of our aims is to help boost literacy levels in Fijian children by using local imagery, values and culture in our books, says Simione.
"It would be a privilege and a piece of luxury if a Fijian child gets to own or read such a book of high quality both for its contents and in the way it presents," he says.
Simione is inviting Industry Update readers to help support the schoolchildren through sponsorship.
By supporting the program you can "adopt" a Fijian School so that each child receives a copy of the book which will help to improve their literary skills.
Simione has fond memories of first attending school as a six-year-old in 1965.
"I still remember those two-tone readers, featuring in short stories characters such as Percy the chicken, Master Willie the pig, Mother Hen, Master Dan the dog. "All were part of Mr Jones' farmstead in a typical English setting.
"Those books predominantly promoted Western imagery, values and culture, he says.
"Now 50 years down the track, trying to find a full color children's picture book with Fijian characters promoting Fijian values and culture is almost impossible.
"This experience prompted us to write and put together a full color Fijian picture book."
For further information on how you can be involved in the Book Boosts Literacy for Fijian Kids' program email: